What makes a great salad? One that everyone asks for over and over again, of course! This salad stands out because of the ingredients I use. They compliment each other perfectly! 
This one has my "go to" staple; anchovies! It also includes other flavors that blend with the anchovies to make each bite both satisfying and enjoyable.   My family loves it and I often serve it when hosting a dinner or holiday get-together. 
The dressing is like icing on a cake… you can use it on any salad and it is very easy to prepare! I make all my salad dressings fresh, and you should too. However, that discussion is for another blog post that you will get to see very soon!
Try this one! It will soon be a favorite for your family, as well!
Ingredients for the Salad
1-2 heads romaine lettuce, chopped
3 red bell peppers, cut into cubes
2 english cucumbers, seeded and cut into cubes
2 (1) pint grape tomatoes, cut in half
6 eggs, hard boiled, grated
8 anchovies, chopped (feel free to use as much as you want)
2 tbsp. capers
Today's Hint: An easy way to cut a red pepper!
First, cut off the bottom of the pepper.
Now cut off each side the pepper, trying to cut between the white parts.
Now you have separated the seeds and stem and can just throw it away! No washing all the seeds off the pepper!
If needed, cut off any remaining white parts.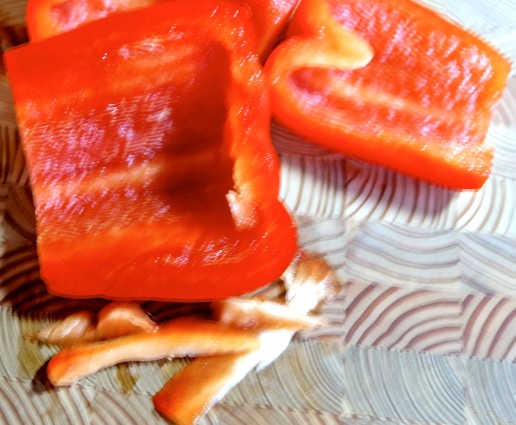 Just cut the red pepper into cubes- it's easy and makes no mess!
Make sure all ingredients are dry and place them into a large serving bowl.
Don't forget those delicious anchovies. When you chop them up, people won't even know they are there!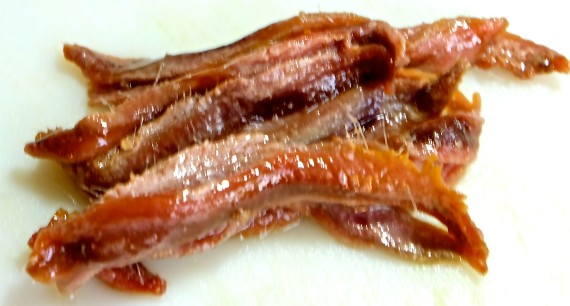 Ingredients for the Dressing
3 tbsp. mayonaise
1 clove garlic, minced
3 tbsp. balsamic vinegar
Juice of 1/2 lemon
2 tsp. dry mustard
1 1/2 tsp. Kosher salt
1/2 tsp. pepper
1/4 cup of olive oil
Mix all ingredients into a bowl, with the exception of the olive oil.
Very slowly, while still whisking, add olive oil.
I do not like to dress the entire salad, unless I am serving it for a large crowd. If you do, add dressing very slowly, mixing each time you pour in some of the dressing. When salad has a little glisten to it, STOP!
Nothing is worse than an overdressed, soggy salad! So be mindful when you add the dressing.
You can also place the dressing in a small pitcher and have each person dress their own portion.
This is great for lunch, brunch or dinner.
I hope you enjoy it as much as my family does!
Please drop me a message and let me know!
It's that simple!