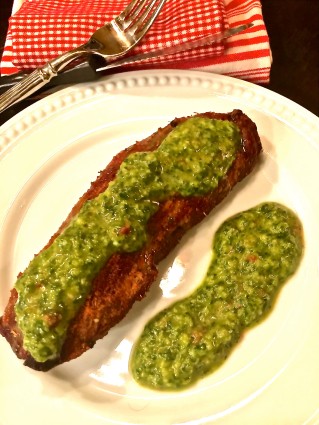 I always thought that Chimichurri was a marinade made with cilantro. Because I am not a fan of cilantro, it was something I never considered.
I came across this recipe as I was searching for something novel to prepare  for dinner.
The ingredients were appealing to me, so I thought I would give it a try. I was skeptical at first, which was why I decided to use it as a sauce on the side and not as a marinade. 
I was pleasantly surprised and thought it was definitely blog-worthy. I am happy to be sharing this with you and I really think you will love it too!
Chimichurri is very similar to a pesto sauce. There are many varieties (some do use cilantro) and this version is a combination of parsley, oregano, garlic, oil and vinegar. You can even add a little bit of chili pepper or red pepper flakes. 
Although it is a marinade  commonly used on steak, you can use it on poultry or fish. I am definitely going to try it that way as well!
Ingredients for the Chimichurri
1 bunch of flat leaf parsley
8 cloves of garlic, minced
3/4 cup of good extra virgin olive oil
1/4 cup of red wine vinegar
Juice of 1 lemon wedge
1 tbsp. diced red onion
1 tbsp. dried oregano or 4 sprigs fresh, chopped
1 tsp black pepper 1/2 tsp. kosher salt

Pulse parsley in food processor to chop.
Add remaining ingredients to the food processor and blend.
You can separate the sauce, half for cooking and half to place on steaks afterward. I choose to cook the steaks with my own ingredients, then place the sauce on the side when I served it.
Ingredients for the Steak
2 or 3 skirt steaks
Set oven to broil.
1/2 tbsp. onion powder
1/2 tbsp. garlic powder
1 tsp. paprika
1 tbsp. dried oregano
1 tbsp. salt
1/2 tsp. pepper
Mix ingredients together and rub onto both sides of steak.
Place steak in oven for 5 minutes each side.
Be careful. Try to judge how thick your steaks are. If they are thin, set your timer for 4 minutes each side.
If after 5 minutes each side is too rare for you, then set your timer for 1-minute increments, until they are cooked to your preference. Remember, they will continue to cook after you take them out of the oven!
Simply delicious!
It's that simple!