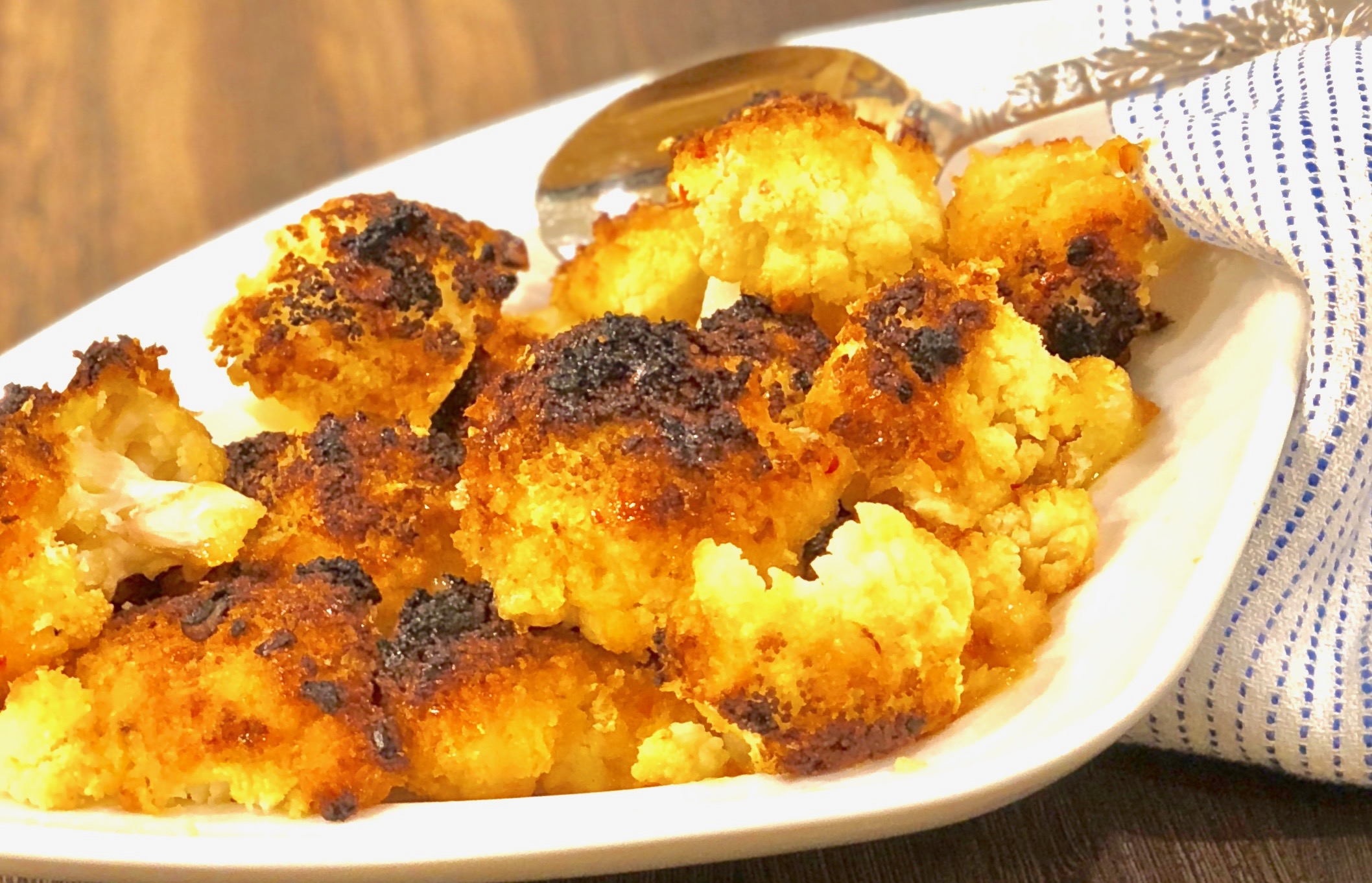 It is so cold here; I really could spend all of my time indoors just cooking. But there are errands to run, people to see and things to do. So, each day I've gone out and the thought of spring coming soon has carried me through.
It's not that I hate winter, I actually love snow, but this kind of cold is not for me. One of my new obsessions is hot sauce. Not only does it go great on eggs, chicken, vegetables and seafood, a little spice also helps me warm up on days like these.
So, I decided to make a sauce that I could use to coat cauliflower and bake in the oven.
I didn't want to make the sauce too hot, as my other family members have a low threshold when it comes to spiciness. By combining a red chili sauce with a sweet chili sauce, I made a new flavoring that is delicious and can be enjoyed with any vegetable. What's really great about this recipe is you can use as much hot sauce as you would like!
By dipping the cauliflower in panko crumbs first, you will have a dish that is crunchy, spicy and sweet, all at the same time. It should be roasted in the oven at a high temperature for 25-30 minutes, ensuring a thoroughly crispy outcome. The result will be an oven-baked, healthy side dish, perfectly flavored with a delicate, yet savory sauce. These tasty, crispy morsels of goodness are impossible to resist. 
This recipe will serve 4-6 people who may become serious hot sauce lovers.
Ingredients for Hot and Sweet Cauliflower
1 head cauliflower, cut into bite sized florets
2 cups panko bread crumbs
3 large eggs, whisked
2 tsp. sweet chili sauce
1 tbsp. sriracha sauce
1 tbsp. honey
3 cloves garlic, chopped
1/2 tsp. lime zest
Juice of 1 lime
1 tsp. kosher salt
1/2 tsp. pepper
Preheat oven to 450F.
Dip the cauliflower pieces in the egg.
Roll cauliflower pieces in the panko.
Set aside.
In a medium sized bowl, combine the sweet chili sauce, sriracha sauce, honey, garlic, lime zest and juice. (Depending on how much cauliflower you have and how much sauce you want, you may want to double the measurements)
Twirl the cauliflower pieces in the sauce, making sure to evenly coat them.
Season with salt and pepper.
Place the cauliflower on a baking sheet.
Place sheet in oven and roast for 25-30 minutes, until golden brown.
It's that simple!