I have so many recipes from my sister-in-law Shelley this blog should be called Simple By Cindy and Shelley! This is one of the recipes she gave me when I first got married and I have been making it ever since.
I know this is another noodle pudding recipe, but I promised to share all of my favorites and this one is near the top of my list! During the holidays, three of my friends made it and told me it got rave reviews!
The combination of these ingredients is scrumptious! It is great for a brunch or as a  dessert! Another great recipe that you can prepare the night before and heat it up the day you are going to serve it!
Ingredients for the Noodle Pudding
6 eggs
1/1/2 cups sugar
1 lb. creme cheese (2 8 0z. packages)
1-pint sour cream
1/2 lb. cottage cheese (8 oz.)
1/2 lb sweet butter (2 sticks)
1 pkg. wide noodles
1/2 cup of sugar and 1 cup of cornflake crumbs combined

Soften butter and cream cheese. (You can put each of them in the microwave for 25 seconds).
Boil noodles 3 minutes less than the time suggested on the package. Drain.
Using a blender, beat eggs, sugar, cream cheese, butter, sour cream and cottage cheese. Transfer to a bowl.
Mix in noodles.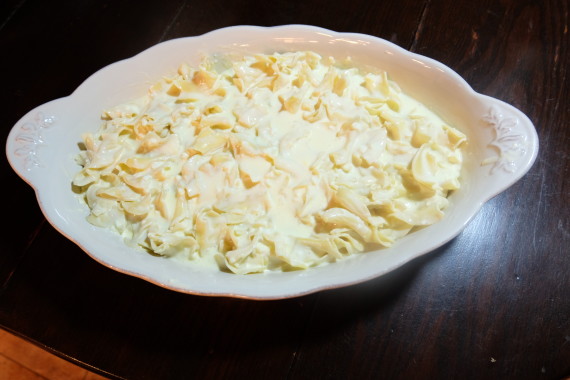 Place in a baking pan. Sprinkle with cornflake crumb and sugar mixture. (use all of it).
Refrigerate overnight.
The next day preheat oven to 350.
Bake for 1 1/2 hours.
It's that simple!