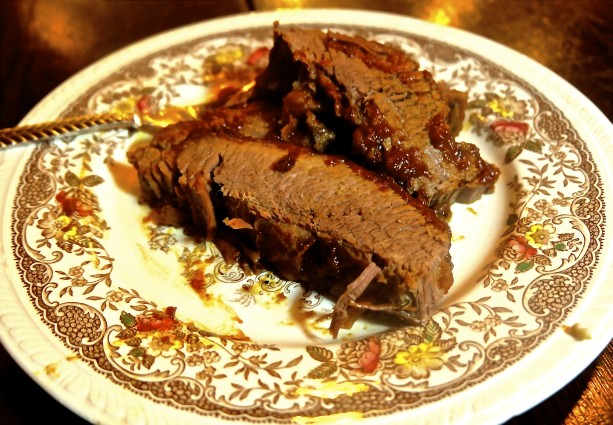 There are so many ways to make brisket. Everyone I ask has their own method.
Some people make it on top of the stove, while others bake it at a low temperature for hours in the oven. 
So many choices! I have tried many of these recipes, and only one has stood the test of time. And that award goes to my sister-in-law, Shelley's recipe!
I know a lot of people say they hate the ketchup-onion soup mixture. This method is one both my family and I enjoy the most.
No question about it, this recipe is our favorite! It makes it's own delicious gravy and comes out soft and delicious every time.
You can use the leftovers to make pulled brisket sandwiches! I have even made it on Super-bowl Sunday as the main dish – pulled brisket on Italian rolls!
It is simple and crazy easy! A great crowd pleaser every time! 
Try this brisket; you won't be sorry! It is fantastic I promise!
Ingredients for the Brisket
5 pound first cut Brisket
1 tbsp. garlic powder
1 tbsp. onion powder
1 tsp. kosher salt
1 tsp. pepper
2 packages Knorrs French onion soup mix
1 cup ketchup
1/2 cup dark brown sugar
Preheat oven to 325.
Mix garlic powder, onion powder salt and pepper. Rub on both sides of brisket.
Mix onion soup mix, ketchup, and dark brown sugar together. Place brisket into baking pan and cover with onion soup mixture. Make sure both sides of brisket are well coated.
Cover pan tightly with aluminum foil.
Bake for 1 1/2 hours. Take out brisket and turn it over. You may need to add a little water if the pan is browning too much. Place back in the oven for another 2 hours.
It will make its own gravy.
When done, cut brisket against the grain of the meat. It should be very soft and easy to cut.
It's that simple!  Enjoy! This one is a" keeper"!