I have been making a lot of pasta dishes lately. I am not sure why, but who doesn't love a good pasta dish? 
When I came across this pasta dish courtesy of Ina Garten (who is one of my favorite go-to chefs), I knew I had to try it. Don't let all the ingredients intimidate you. Once you prep each item, it will go very fast. The difficulty level of this recipe is "easy". Trust me.
Setting up each ingredient first is called a "mise en place". Garlic and onions are chopped and  liquids and spices are measured before you start making the dish. Taking the time to do this will enable you to be more efficient and end up saving you time in the long run. You can concentrate on the cooking process and enjoy it more with much less worry.
You can always prepare the pesto several days before and store it in the refrigerator or freezer (the instructions to do this are included below). This will cut down on your prep time as well.
Now I'll return to this wonderful recipe. The pasta, spinach and pea combination is delightful. The nuts add a pleasing texture. The creamy pesto sauce just perfects the recipe and is heavenly. I love the addition of the mayonnaise and lemon juice. Ina just gets it right every time.
Just a note: I mixed the pesto with the pasta a little at a time. There is a lot of pesto so be cautious when adding it in. You can always use the rest of this delicious sauce on another pasta dish.
This Pasta, Pesto and Peas serves 12 and each one of your family or guests will love it!
Ingredients for the Pasta
3/4 pound fusilli pasta ( 1 1/2 cups)
3/4 pound bowtie pasta (1 1/2 cups)
1/4 cup good olive oil
1 1/2 cups pesto (recipe below)
1 (10- ounce) package frozen chopped spinach, defrosted and squeezed dry
3 tbsp. freshly squeezed lemon juice
1 1/4 cups mayonnaise
1/2 cup freshly grated Parmesan
1 1/2 cups frozen peas, defrosted
1/3 cup pignoli (pine nuts)
3/4 tsp. kosher salt
3/4 tsp. black pepper
For the pesto:
1/4 cup walnuts
1/4 cup pignoli (pine nuts)
3 tbsp. chopped garlic ( about 9 cloves)
5 cups fresh basil leaves, packed
1 tsp. kosher salt
1 tsp. black pepper
1 1/2 cups good olive oil
1 cup freshly grated Parmesan
Cook the fusilli and bow tie pastas separately in a large pot of boiling salted water for 10 to 12 minutes until the pasta is al dente. Them mix together.
Drain and toss into a bowl with the olive oil. Cool to room temperature.
In a bowl of a food processor fitted with a steel blade, puree the pesto, spinach and lemon juice.
Add the mayonnaise and puree.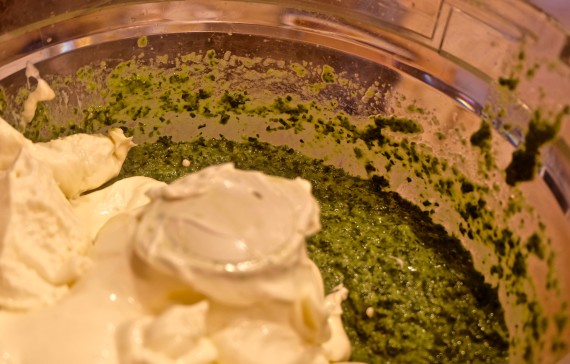 Add the pesto mixture to the cooled pasta and then add the Parmesan, peas, pignoli, salt and pepper. Be sure to add the pesto a little at a time, until you get the desired amount. Do not overdress the pasta. 
If you have any pesto left, follow the intructions below to store it.
Mix well, season, taste and serve at room temperature.
For the pesto:
Place the walnuts, pignoli and garlic in the bowl of a food processor fitted with a steel blade.
Process for 15 seconds.
Add the basil  leaves, salt and pepper.
With the processor running, slowly pour the olive oil into the bowl through the feed tube and process until the pesto is thoroughly pureed.
Add the Parmesan and puree for 1 minute.
Use right away or store the pesto in the refrigerator or freezer with a thin film of oil on the top.
Note: Air is the enemy of pesto. For freezing, pack in containers with a film of olive oil or plastic wrap directly on top with the air pressed out.
It's that simple!