I am addicted to salt and vinegar potato chips, so when I found a recipe for baked potatoes with salt and vinegar, I knew it would be a winner.
And as I expected, it was. The potatoes absorbed the salt and vinegar during the boiling process, and turned deliciously crispy after they were baked and broiled. Some advice: when you turn your oven to "broil", you must check the potatoes every 1-2 minutes to prevent them from burning. Take them out of the oven when they reach your desired level of brown.
I will be making these delectable potatoes again and again. They were so sinfully good.
This recipe is adapted from Bon Appetit, and will serve 4 people who will become serious salt and vinegar potato addicts.
Ingredients for Crispy Salt-and-Vinegar Potatoes
2 pounds baby Yukon Gold or Fingerling Potatoes, halved
1 cup plus 2 tbsp. distilled white vinegar
2 tbsp. kosher salt plus 1/2 tsp. set aside
1/2 tsp. freshly ground black pepper
2 tbsp. (good) olive oil
2 tbsp. chopped fresh chives
Flaky sea salt, (such as Maldon)
Add the halved potatoes, 2 tablespoons kosher salt, and 1 cup vinegar to a large pot. 
Add enough water to cover potatoes by 1 inch and bring to a boil. Boil for 25 to 30 minutes or until fork-tender.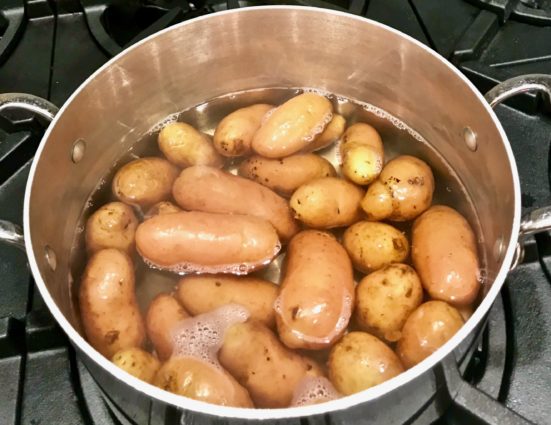 Preheat oven to 425.
Drain potatoes.
Pat them dry with paper towels.
Line a baking sheet with parchment paper.
Mix the potatoes with olive oil, 1/2 teaspoon of salt and pepper and remaining 2 tbsp. vinegar until generously coated.
Evenly spread the potatoes into the prepared baking sheet.
Bake for 25 minutes.
After 25 minutes, broil the potatoes until they are crispy, checking every 1-2 minutes to ensure that they do not burn. 
Allow them to brown to your liking—-this may take anywhere from 5 to 10 minutes. 
Once they are crispy, remove them from the oven.
Season with additional salt to taste.
Sprinkle with chives.
It's that simple!