This is about as easy as it gets!  The chicken cutlets don't take a lot of time to cook and the broccoli is ready in minutes!  I love the way broccoli looks after it cooked.  If it is sautéed correctly, this beautiful bright green vegetable looks scrumptious!
You have to be very careful with the timing!
Take it off the heat as soon as it turns that radiant color because it will continue to cook after you take it off the stove.  Nothing is more unappetizing to me than dark green, sad looking broccoli, so be careful and follow the directions!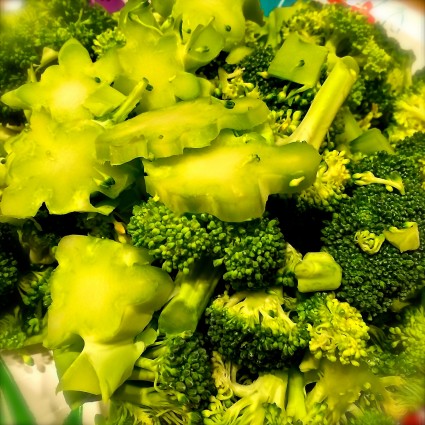 Ingredients for Broccoli
Rinse broccoli and dry it very well. Drying thoroughly helps to keep it crisp.
1 bunch broccoli, chopped
¼ tsp. crushed red pepper flakes
5 cloves garlic, chopped very small
1/2 onion, chopped
Juice of 1 small lemon
4 tbsp. olive oil
1 1/2 tsp. Kosher salt
1/2 tsp. pepper
Todays Hint:  Just to let those of you who do not like the stems of the broccoli, I have a suggestion.  Peel the stems like you would peel a carrot. Taste!!  It is amazing how different the stems taste when they are peeled!  They are sweet and delicious!  You might change your mind and use them from now on!  Maybe even use them as a snack!
Add olive oil to pan. When heated, add onions, a little salt and pepper (save some for later).
Cook onions until they are translucent about 8 minutes.
Add lemon, red pepper flakes and garlic.
Cook garlic only one minute. It is important that you do not burn the garlic.  Remember you have other ingredients to add and the garlic will continue to cook.
Now add the broccoli, and some more salt and pepper.
Mix ingredients well.
Cook until broccoli turns bright green about 10 minutes. Immediately take the pan off the heat. The broccoli will continue to cook after you take it off the heat. You want the broccoli to be crunchy, not soft and mushy. Taking it off the heat when it turns bright green will ensure that you have the perfect consistency and a beautiful side dish.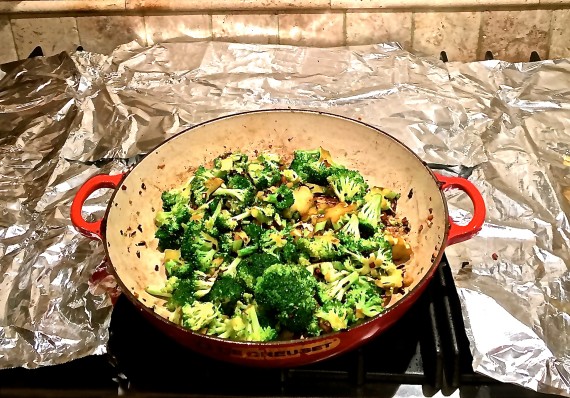 Ingredients for Chicken Cutlets
6 small boneless chicken thighs
2 cups flour
2 tbsp. garlic powder
2 tbsp. onion powder
2 tbsp. oregano
1 tbsp. basil
2 tbsp. Kosher salt
2 tbsp. pepper
3 cups bread crumbs
3 eggs
1/2-cup olive oil.
Set oven to 350.
Mix flour, garlic powder onion powder, oregano, basil salt and pepper together in a plastic bag. Shake well to mix.
Make sure chicken cutlets are dry.  Drop them into bag and shake well.
Beat eggs into bowl.
Place bread crumbs onto a paper plate.
Drop each cutlet into egg bowl, then into breadcrumb mixture. Make sure cutlets are evenly coated with bread crumbs
Heat olive oil in pan medium heat until sizzling. Drop cutlets into pan.
Each cutlet should take about 5-7 minutes to brown.  Set your timer.
Do not crowd cutlets in pan. Do it in batches if you need to.
When you get to the second batch watch carefully.  The oil is very hot the second time around, and the cutlets may take only 3-4 minutes to brown. You need to watch them so they do not burn.
Take chicken cutlets out of pan and place them on paper plate or board covered with paper towels. Let them sit a while to absorb the oil.
Place in aluminum pan and put in oven for 20 minutes. Set your timer!!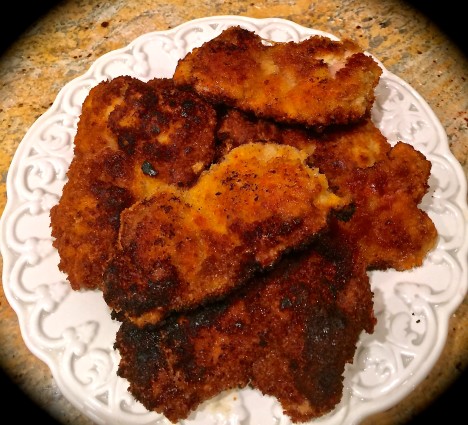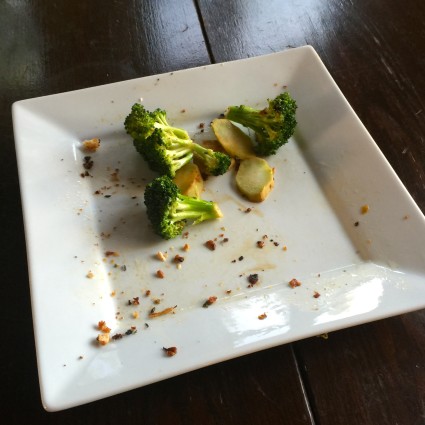 It's that simple!