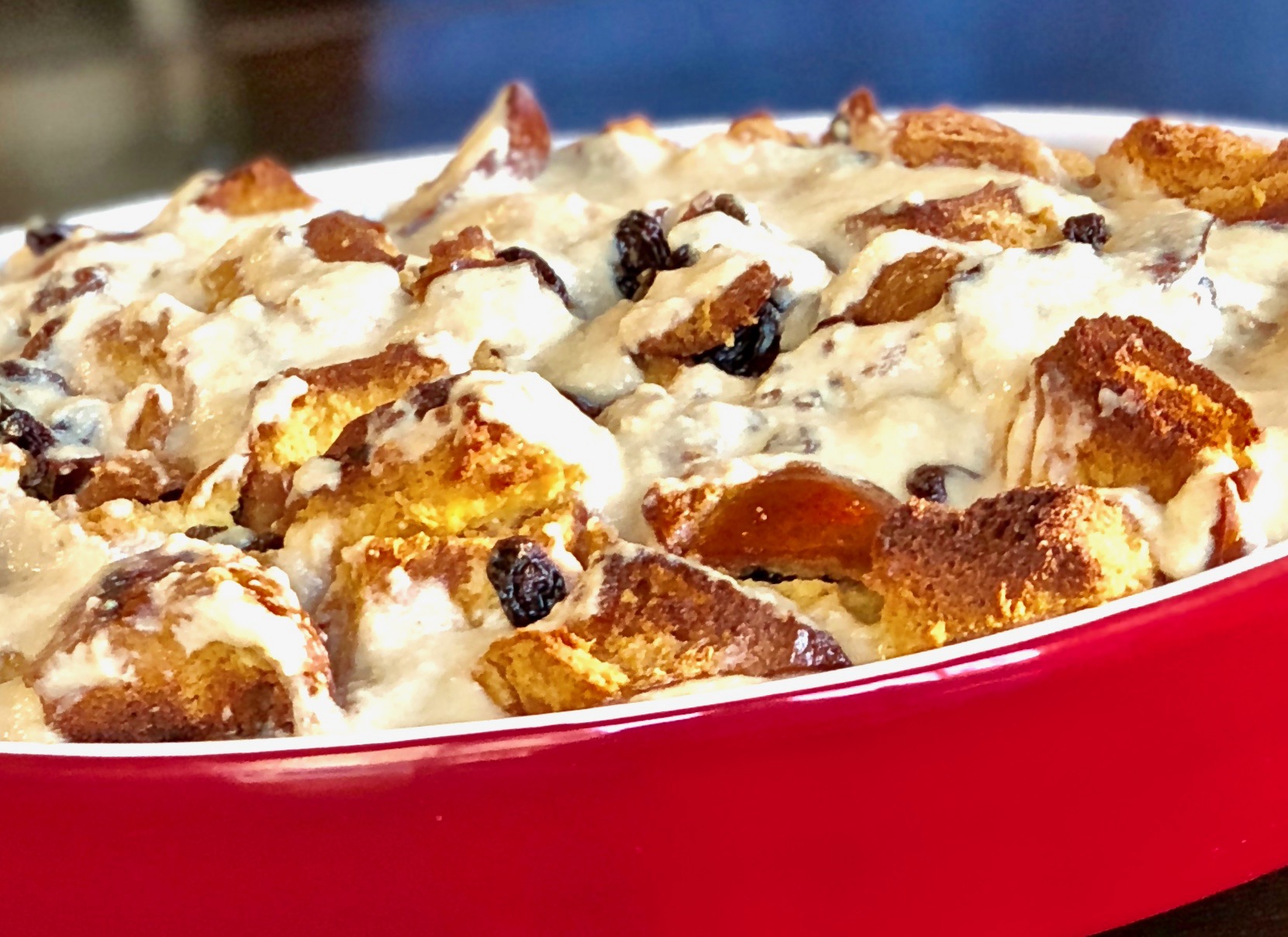 The only way to finish off a great meal is with an even better dessert!
My famous bread pudding is the one dish I simply can't pass up. I always look for creative combinations of flavors, there are so many possibilities. You can combine caramel and apple, blueberry and white chocolate, pecan pie, or cinnamon raisin, just to mention a few. And I love them all! Who doesn't? It is the most decadent dessert around.
Since this was my first attempt at making bread pudding (why has it taken me so long?), this recipe is rather old-fashioned. It includes mostly basic ingredients, like vanilla and raisins, which are reminiscent of "grandma's cooking". Not to mention, I had all these ingredients in my pantry, which made the process even easier.
I looked at many different recipes for this basic bread pudding, and using all the ingredients I love, designed this recipe. I used plenty of vanilla in mine, but feel free to cut down the amount depending on your palette. I also used challah bread because I really believe it is the best choice. It is thick, moist and absorbs the liquid and sauce beautifully. 
I don't know how many people this will serve, but the lucky ones who get to taste it are going to want to kiss the cook!
Ingredients for Bread Pudding
5 eggs, beaten
1 1/2 cups white sugar
2 1/2 tbsp. light brown sugar
1/2 tsp. ground cinnamon
1/4 cup butter, melted
2 1/2 cups whole milk
1 challah bread, cut into cubes and toasted
1 1/2 cups raisins
1 tsp. vanilla
For the Vanilla Sauce
3/4 cup light brown sugar
2 tbsp. all-purpose flour
1/2 tsp. ground cinnamon
1 egg
4 tbsp. butter, melted
1 1/4 cups whole milk
1/4 tsp. salt
2 tbsp. vanilla extract
Preheat oven to 375°F.
Grease a 2 quart baking dish.
In a mixing bowl, whisk 5 eggs, white sugar, light brown sugar, cinnamon, butter, and milk.
Gently stir in toasted bread cubes and raisins. 
Pour mixture into baking dish.
Bake in oven for 30 minutes.
Cover with tin foil and continue to bake another 20-25 minutes.
For the vanilla sauce:
In a heavy saucepan, over medium heat, whisk the light brown sugar, egg, cinnamon, flour, butter, milk, and salt together.
Whisk constantly and until smooth and sauce thickens, about 10 minutes.
Stir in vanilla extract.
Pour sauce over warm bread pudding.
It's that simple!