Oh my! This is definitely the best Crumb Cake I have ever tasted. It is as light as air, delicate and so addicting.
It is an old recipe (which is evident by the use of vegetable shortening), but the result is a very light and fluffy cake topped with a scrumptious butter and sugar-crumb mixture. It is everything a crumb cake should be and much more. It is filled with fresh blueberries that add an additional yummy flavor and texture.
There are a few things I did change. I added only 1/4 cup of vegetable shortening. I would also double the crumb-topping and add more blueberries. You need to get one in every bite.
This is another fantastic recipe courtesy of Marcy Goldman. I do not want to mess with her recipe though, so my suggestions are just options you may want to know.  All of her recipes are wonderful, and I am so happy to share this one with you. It is a "keeper" for sure.
Ingredients for Old-Fashioned Crumb Cake
For the Cake:
2 cups granulated sugar
1 cup (2 sticks) unsalted butter
1/2 cup of vegetable shortening (I used 1/4 cup)
4 eggs
2 tsp. vanilla extract
3 1/4 cup all-purpose flour
1/4 tsp. salt
2 tbsp. cornstarch
1 tsp. baking soda
2 tsp. baking powder
1 1/2 cups buttermilk
1 1/2 cups fresh or frozen blueberries ( I used 2 cups)
For the Crumb topping: ( I doubled the following):
1/3 cup of confectioners' sugar
1/3 cup all-purpose flour
1/2 tsp. ground cinnamon
1/8 tsp. grated nutmeg
2-4 tbsp. unsalted butter or margarine; melted
Preheat oven to 350.
Lightly grease a 9 by 13-inch rectangular pan, or two 9 by 9-inch square pans, or two 9 by 5-inch loaf pans.
For the cake:
In a large bowl, cream the sugar with the butter and shortening.
Add the eggs,  one at a time, until well-blended.
Add the vanilla.
For the next set of ingredients, the recipe says to fold them in, howeverI used the paddle attachment of my mixer and it worked well.
Change the attachment of  your blender to the paddle and add the flour, salt, cornstarch, baking soda, and baking powder.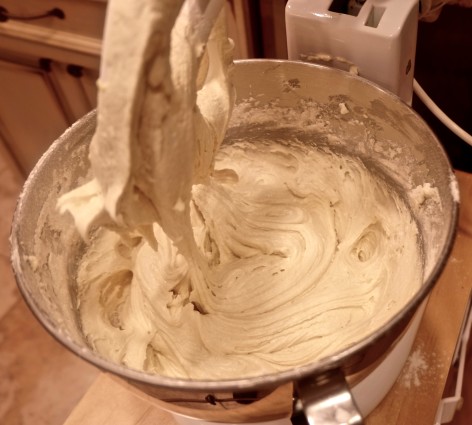 As the batter is being mixed, slowly pour in the buttermilk.
Gently fold the blueberries in by hand.
Place into pan.
For the crumb topping:
In a small bowl, toss the confectioners' sugar, flour, cinnamon and nutmeg with the melted butter. Use your judgement on this, if mixture does not seem crumbly, add more sugar and flour until you get the right consistency. I doubled these ingredients to get enough to top entire cake.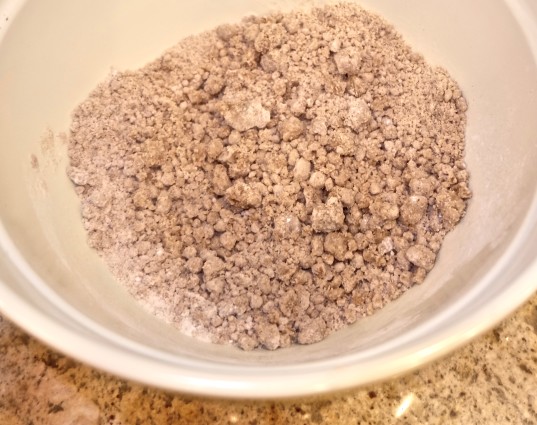 Sprinkle rubs over cake batter.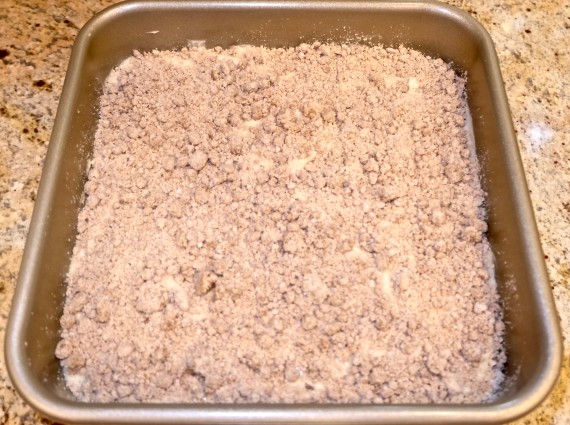 Bake for 50-60 minutes, until the cake seems firm to the touch. Cool completely, in or out of pan, before serving.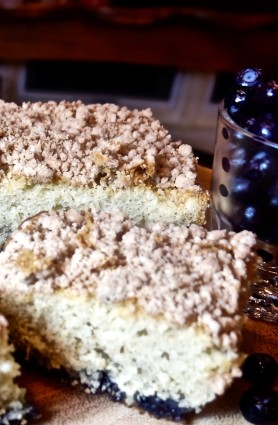 It's that simple!