What is there do on a rainy, cold, miserable Sunday? Why bake something of course!
I have loved lemon bars for as long as I can remember and have always wanted to try to bake them myself. When I found this recipe, it looked simple enough, so I finally decided to whip up a batch of my own.
This recipe was perfect. As a lemon lover, these delicious bars did not disappoint. Each bite was a divine taste of lemony goodness and left your tongue tingling with happiness.
So what started out as a  a gloomy day turned out to be pretty good! As they say, "when life gives you lemons, make lemonade" or better yet, lemon bars!
This recipes is courtesy of Ina Garten and makes about 20 large squares. She cuts the squares into triangles to make 40 pieces (I kept my pieces square).
Do not wait for a rainy day to make these. They are just that heavenly!
Ingredients for the Lemon Bars
For the crust:
1/2 pound (2 sticks) unsalted butter, at room temperature
1/2 cup granulated sugar
2 cups flour
1/8 tsp. salt
For the filling:
6 extra-large eggs at room temperature
3 cups granulated sugar
2 tbsp. grated lemon zest (about 4-6 lemons)
1 cup freshly squeezed lemon juice
1 cup flour
Confectioners' sugar for dusting
Preheat oven to 350.
For the crust, cream the butter and sugar until light in the bowl of an electric mixer fitted with the paddle attachment.
Combine the flour and salt. 
Turn the mixer to low and add to the butter and sugar until just mixed.
Transfer the dough onto a well-floured board and gather into a ball.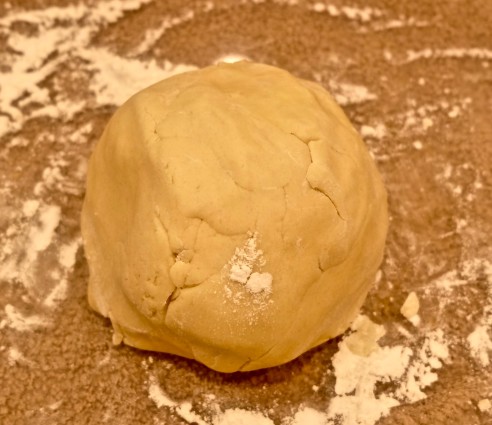 Flatten the dough with floured hands and then press it into a 9 by 13 by 2-inch baking sheet, building up 1/2-inch edge on all sides. 
Chill.
Bake the crust for 15 to 20 minutes, until very lightly browned. 
Let cool on wire rack. 
Leave oven on.
For the filling, whisk together the eggs, sugar, lemon zest, lemon juice and flour.
Pour over the crust.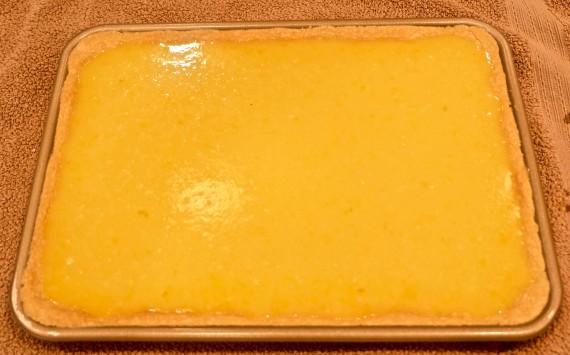 Bake for 30 to 35 minutes, until the filling is set.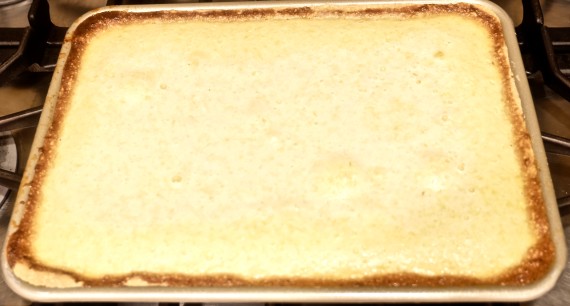 Let cool to room temperature.
Cut into triangles and dust with confectioners' sugar.
It's that simple!