These muffins are amazing!  They take a decent amount of time, but they are oh, so worth it! 
Marcy Goldman is a baking master, and all of her recipes are reliable and delicious. I would recommend any of her books, as they are all wonderful. In her new book, The New Best of Better Baking, she provides the reader with helpful hints and tips, equipment essentials, as well as her favorite ingredients and why she uses them.
These muffins are really special because of their ingredients. The author provides the reader with several fruit combinations that she thinks would be extraordinary: strawberries, cranberry-orange, or blueberry-lemon. I chose the cranberry-orange.
To make the cranberry- orange filling, you have to place the cranberries and orange slices, (white pith and peel removed) into the food processor and just pulse it 5-6 times. You want chunks of the combination, not a paste. Getting the peel and pith off the orange slices takes some time, so if you choose another combination, the progression of the recipe would go faster.
Whatever fruit blend you choose, they will be outstanding in every way. Marcy writes about an "even better version" of these muffins (although I can't imagine how) that I hope to try in the future.
I do not consider myself a "baker", yet these muffins will fool anybody into thinking you are! These are a "must try" . Oh my, they are so yummy!
Ingredients for Muffins 
For the Streusel Topping
1 tbsp. cold unsalted butter
1/3 cup firmly packed brown sugar
1/2 tsp. ground cinnamon
1/2 cup finely chopped walnuts
For the Muffins
1/2 cup of vegetable oil
1 1/3 cups firmly packed light brown sugar
1 tbsp. grated citrus zest ( I used orange zest)
1 egg
2 tsp. pure vanilla extract
1 cup buttermilk
2 1/2 cups to 2 3/4 cups all-purpose flour
1/4 tsp. salt
2 1/2 tsp. baking powder
1/2 tsp. baking soda
1/2 tsp. ground cinnamon
1 3/4 cups coarsely chopped fruit
Preheat oven to 400.
Line 12 muffin cup pan with paper liners or spray generously with nonstick cooking spray.
Grease the top of the muffin pan.
Line a large baking sheet with parchment paper. Set aside.
For the streusel:
Mix all the ingredients together with a fork or your fingertips in a small bowl to make a crumbly mixture. Set aside.
For the batter:
Whisk the oil, brown sugar, citrus zest ( I used orange zest), and egg together in a large bowl. The mixture should be pasty. Stir in the vanilla and buttermilk.
In large bowl, stir together the 2 1/2 cups of the flour, salt, baking powder, baking soda, and cinnamon.
Add to the wet ingredients and blend.
Fold in the fruit. The use of frozen fruit may help firm up the batter. If it doesn't, and the batter seems to loose, add 1/4 cup more flour to make the batter a little stiffer.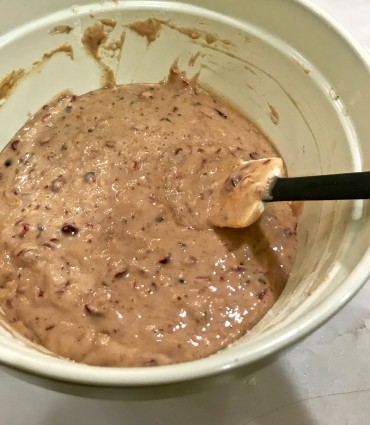 Using a large ice-cream scooper, fill the muffin cups to the top.
Sprinkle streusel topping evenly over each muffin. Place the muffin pan on the prepared baking sheet.
Bake for 15 minutes, then lower the oven temperature to 350 and bake for another 12-15 minutes, or until the muffins spring back when pressed lightly.
Let cool in pan for 5 minutes before unfolding onto wire racks.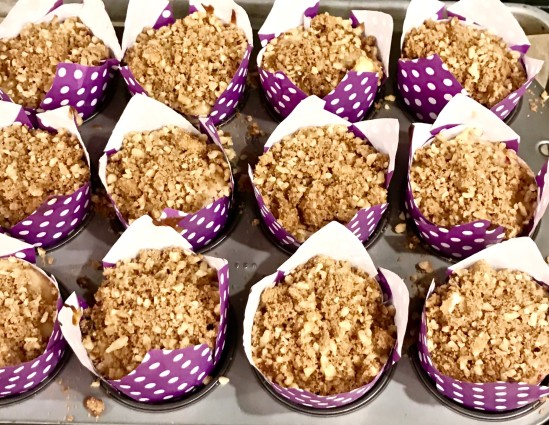 It's that simple!