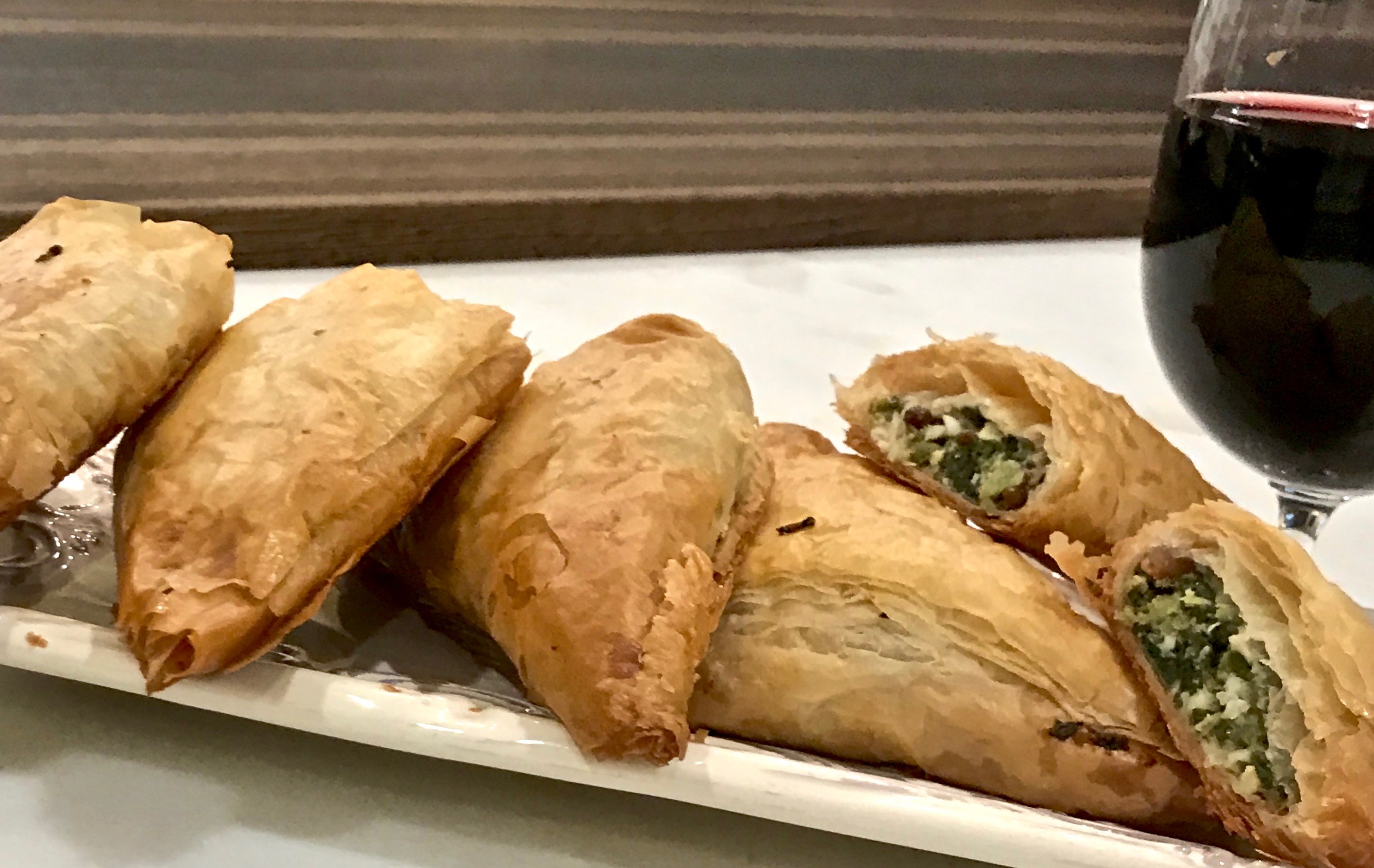 I recently came across this appetizer recipe in my archives and remembered that I had made it for a holiday. It was a big hit (not to mention delicious), so I decided make it and post it on my blog.
Unfortunately, this is not a recipe for the faint of heart. Making the filling is easy, but working the phyllo dough is a little tricky. If I'm being honest, it's not that simple. Perhaps it is effortless for the bakers out there, but for us cooks…. not so much.
That being said, (and I hope I didn't scare you too much), this is a wonderful recipe to try if you have the time. It is a great dish to make ahead for a dinner party and freeze. Once you get the hang of using the phyllo dough, it is fairly uncomplicated to make.
Don't worry if a piece of the phyllo dough tears; just brush it with butter, and place a new one on top. It will not matter. Nor will it matter if your phyllo dough isn't perfectly flat. It will right itself when you roll it up. 
Although I followed the recipe for the most part, I did make some changes. I used half the amount of salt called for in the original recipe, as I thought that the feta cheese was salty enough. In addition, I did not sprinkle any extra salt on top. I also did not use breadcrumbs between each phyllo sheet, as originally suggested, because I had poured all the breadcrumbs into the filling mixture (my mistake!). Guess what? My spanakopitas turned out beautifully. You can always fiddle with the ingredients of any recipe to accommodate your individual preferences. 
I say go for it! It is worth each and every minute you put into it when you relish each yummy bite! The phyllo dough is crisp and light. The filling is airy and not heavy. They come out of the oven beautifully browned, and you just can't wait to dive in.
This recipe is courtesy of Ina Garten and will make 12 strudels, which will leave just about anybody delighted.
Ingredients for Spanakopitas
1/4 cup good olive oil
1 cup chopped yellow onion
3 scallions, white and green parts, chopped
2 (10-ounce) packages frozen chopped spinach, defrosted
4 extra-large eggs, lightly beaten
3 tbsp. freshly grated Parmesan cheese
6 tbsp. bread crumbs, divided
1 tsp. grated nutmeg
2 tsp. kosher salt (I used 1)
1 tsp. freshly ground black pepper
 2 cups small diced feta cheese (12 ounces)
3 tbsp. toasted pine nuts
24 sheets frozen phyllo dough, defrosted
1/4 pound (1 stick) unsalted butter, melted
Flaked sea salt, such as Maldon, for sprinkling
Preheat the oven to 375.
Heat the olive oil in a medium sauce pan. Add the onions, and cook for 5 minutes over medium-low heat.
Add the scallions, and cook for another 2 minutes until the scallions are wilted but still green. Meanwhile, gently squeeze most if the water out of the spinach and place in a large bowl.
When the onions and scallions are done, add them to the spinach. 
Mix in the eggs, Parmesan cheese, 3 tablespoons breadcrumbs, nutmeg, salt and pepper.
Gently fold in the feta cheese and pine nuts. Set aside.
Place 1 sheet of phyllo dough flat on a work surface with the long end in front of you. Brush the dough lightly with butter and sprinkle it with a teaspoon of breadcrumbs. (I did not use breadcrumbs for this).
Working quickly, slide another sheet of phyllo dough on top of the first. Brush it with butter, and sprinkle lightly with breadcrumbs. (use just enough breadcrumbs so the layers of phyllo dough do not stick together).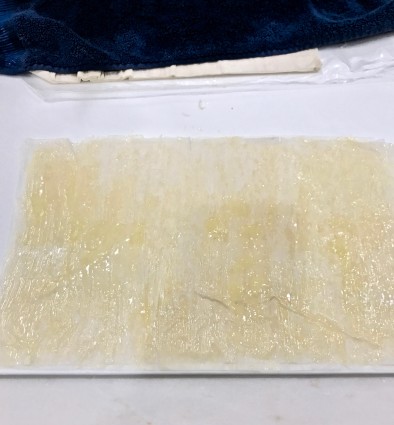 Place a wet towel over unused phyllo to keep it moist.
Pile up 4 layers total on top of each other, this way, brushing each with butter and sprinkling with breadcrumbs. 
Cut the sheets of phyllo in half lengthwise. (Use a pie cutter, it will cut easier and not tear the phyllo)
Place 1/3 cup of spinach filling the corner side of the phyllo dough. Roll it up diagonally as if folding a flag.
Fold it over straight and then diagonally again. Continue folding until you reach the end of the sheet. 
The filling should be totally enclosed.
Continue assembling phyllo layers until all the filling is used.
Place on sheet pan, seam sides down.
Brush with melted butter, sprinkle with flaked salt and bake for 30-35 minutes, until the phyllo is browned and crisp.
Serve hot.
It's that simple! (Uh, no, not really!)