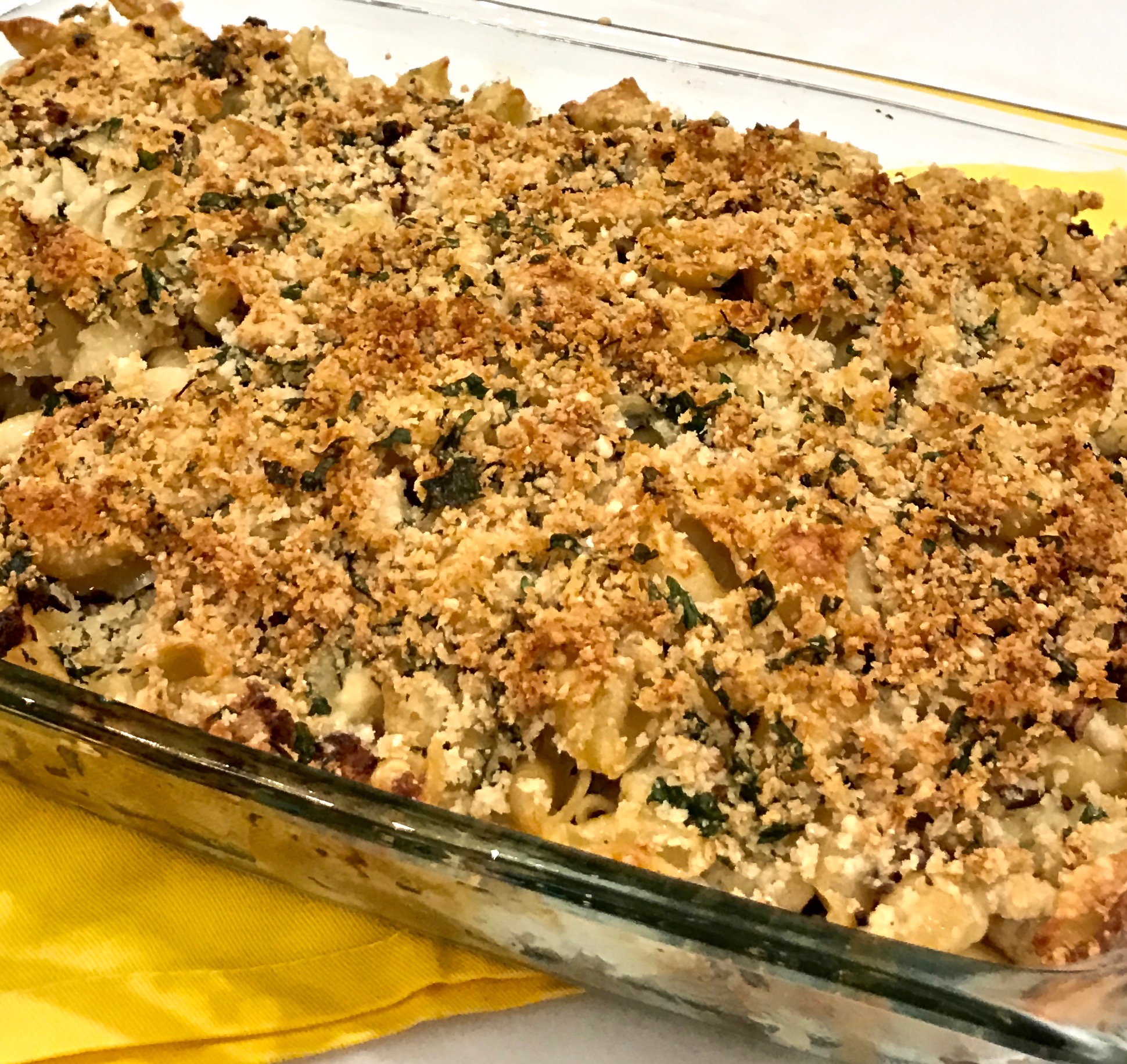 This is another yummy, comfort food recipe from Ina Garten. I just love her new book, Cooking for Jeffrey. There are so many recipes in it that I can't wait to share with you. Her instructions are easy to follow, and the dishes are quick to make and always delicious.
This recipe has a combination of ingredients that I thought would be delectable together, and I wasn't disappointed. Any recipe that has capers, lemon zest, two kinds of cheese, and pasta is a "must try" for me. I loved the addition of the cauliflower and the sage as well.
I would not label this as a quick, go-to recipe, however it was easy to make. If you measure all your ingredients first (and you should), the process runs smoothly and efficiently. It was worth it because this was a scrumptious dish. The flavors blended beautifully and every bite was delightful.
You can also make this dish ahead. Just assemble the ingredients first, cover and refrigerate. Bake right before serving.
This recipe will serve 6-8 very contented, happy people.
Ingredients for Crusty Baked Shells and Cauliflower
Kosher salt and freshly ground black pepper
3/4 pound medium shells, such as Barilla
Good olive oil
2 1/2 pounds cauliflower, cut into small florets (1 large head)
3 tbsp. roughly chopped fresh sage leaves
2 tbsp. capers, drained
1 tbsp. garlic, minced (3 cloves)
1/2 tsp. grated lemon zest
1/4 tsp. crushed red pepper flakes
2 cups freshly grated Italian Fontina cheese, lightly packed (10 ounces with rind)
1 cup (8 ounces) fresh ricotta
1/2 cup panko (Japanese bread flakes)
6 tbsp. freshly grated Italian Pecorino cheese
2 tbsp. minced fresh parsley leaves
Preheat oven to 400.
Fill a large pot with water, add 2 tbsp. salt, and bring to a boil. Add the pasta and cook until al dente, according to the instructions on the package. Since it will be baked later, don't overcook it! Drain and pour into a very large bowl.
Meanwhile, heat 3 tbsp. of olive oil in a large (12-inch) sauté pan over medium-high heat. Add half the cauliflower in one layer, and sauté for 5 to 6 minutes, tossing occasionally, until the florets are lightly browned and tender.
Pour the cauliflower, including the small bits, into the the bowl with the pasta.
Add 3 more tbsp. of oil to the pan and the remaining cauliflower, cook until browned and tender, and add to the bowl.
Add the sage, capers, garlic, lemon zest, red pepper flakes, 2 tsp. salt, and 1 tsp. black pepper to the bowl and stir carefully.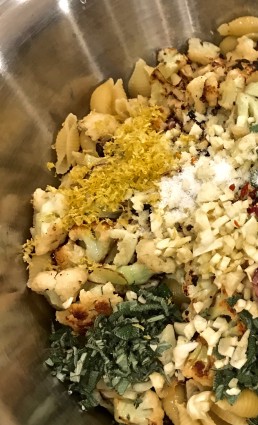 Stir in the Fontina.
Transfer half of the mixture to a 10 x 13 x 2-inch rectangular baking dish.
Spoon rounded tablespoons of ricotta on the pasta and spoon the remaining pasta mixture on top.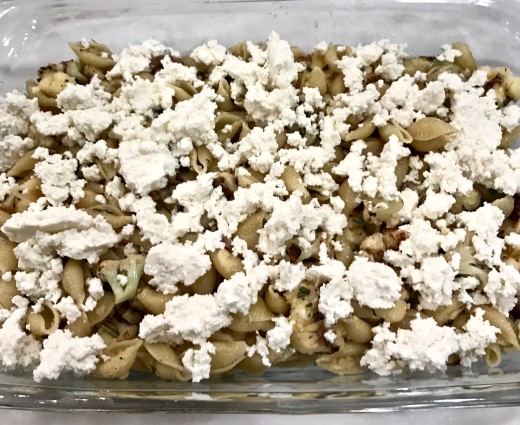 Combine the panko, Pecorino, parsley and 1 tbsp. of olive oil in a small bowl and sprinkle it evenly on top.
Bake for 25 to 30 minutes, until browned and crusty on top.
Serve hot.
It's that simple!