Everyone has their "go-to" recipes when dinner has to be on the table in a short amount of time.
I know I have mine! It is usually a main dish with a vegetable that is roasted simply with some oil, garlic and lemon. 
From the time my oldest son was a child until he was a teen, he would only eat pizza or pasta with butter and parmesan cheese. My younger son was more adventurous, and would happily try anything. When you are raising two different kids, you gotta do what you gotta do.
My kids, who are adults now, still enjoy my 'go-to" recipes and ask me for them often. But now I do my best to change it up a bit and diversify their palettes. Of course, starting this blog helped a lot, and I am happy when I see them trying something new.
This recipe is perfect if you want to brave and introduce something special. The caramelization of the cauliflower after roasting gives this dish a wonderful depth of flavor. The raisins add lovely texture, and a sweet surprise. The capers compliment it with a salty jolt, and the breadcrumbs bring it all together to make this dish as wonderful as it is unique.
This recipe is courtesy of Epicurious, and will serve 8-10 people who will love this extraordinary combination of flavors.
Ingredients for Cauliflower with Capers, Raisins, and Breadcrumbs
1 large head of cauliflower (2 pounds), cut into 2″ florets
6 tbsp. olive oil, divided in half
Kosher Salt
Freshly ground black pepper
3 garlic cloves, thinly sliced
2 tbsp. salt-packed capers: soaked, rinsed and patted dry
3/4 cup breadcrumbs
1/2 cup low-salt chicken broth
1 tsp. anchovy paste (optional)
1/3 cup golden raisins
1 tbsp. white wine vinegar or champagne vinegar
2 tbsp. chopped flat leaf parsley
Preheat oven to 425F.
Toss cauliflower florets with 3 tablespoons olive oil in a large bowl; season mixture with salt and pepper.
Divide cauliflower mixture between 2 large rimmed baking sheets, spreading out in a single layer.
Roast, tossing occasionally, until cauliflower is golden and crispy, about 45 minutes.
*Do ahead: Cauliflower can be made 4 hours ahead. Let stand at room temperature. Reheat before using.
Meanwhile, heat remaining 3 tablespoons olive oil in a small saucepan over medium-low heat.
Add garlic and cook, stirring occasionally until they are just golden, about 4-5 minutes.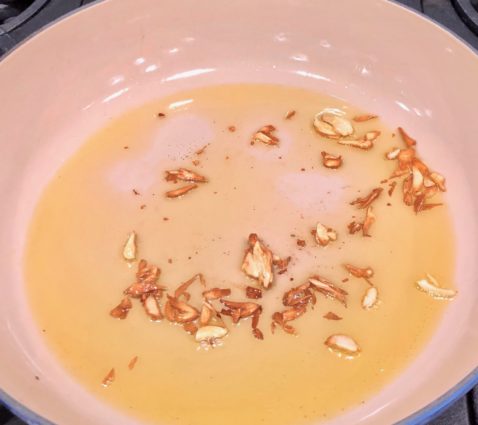 Add capers and cook until they start to pop, about 3 minutes.
Add breadcrumbs and toss to coat.
Cook, stirring often, until breadcrumbs are golden, 2-3 minutes; transfer breadcrumb mixture to a plate and set aside.
Add chicken broth and anchovy paste (if using) to same saucepan.
Bring to a boil.
Add golden raisins and white wine vinegar and cook until almost all the liquid is absorbed, about 5 minutes .
Remove from heat and set aside.
*Do ahead: Breadcrumb and raisin mixtures can be made 2 hours ahead. Rewarm raisin mixture before continuing.
Transfer warm cauliflower to a serving bowl. Scatter raisin mixture over, then toss to distribute evenly. 
Season to taste with salt and pepper.
Sprinkle cauliflower with breadcrumb mixture and parsley.
It's that simple!