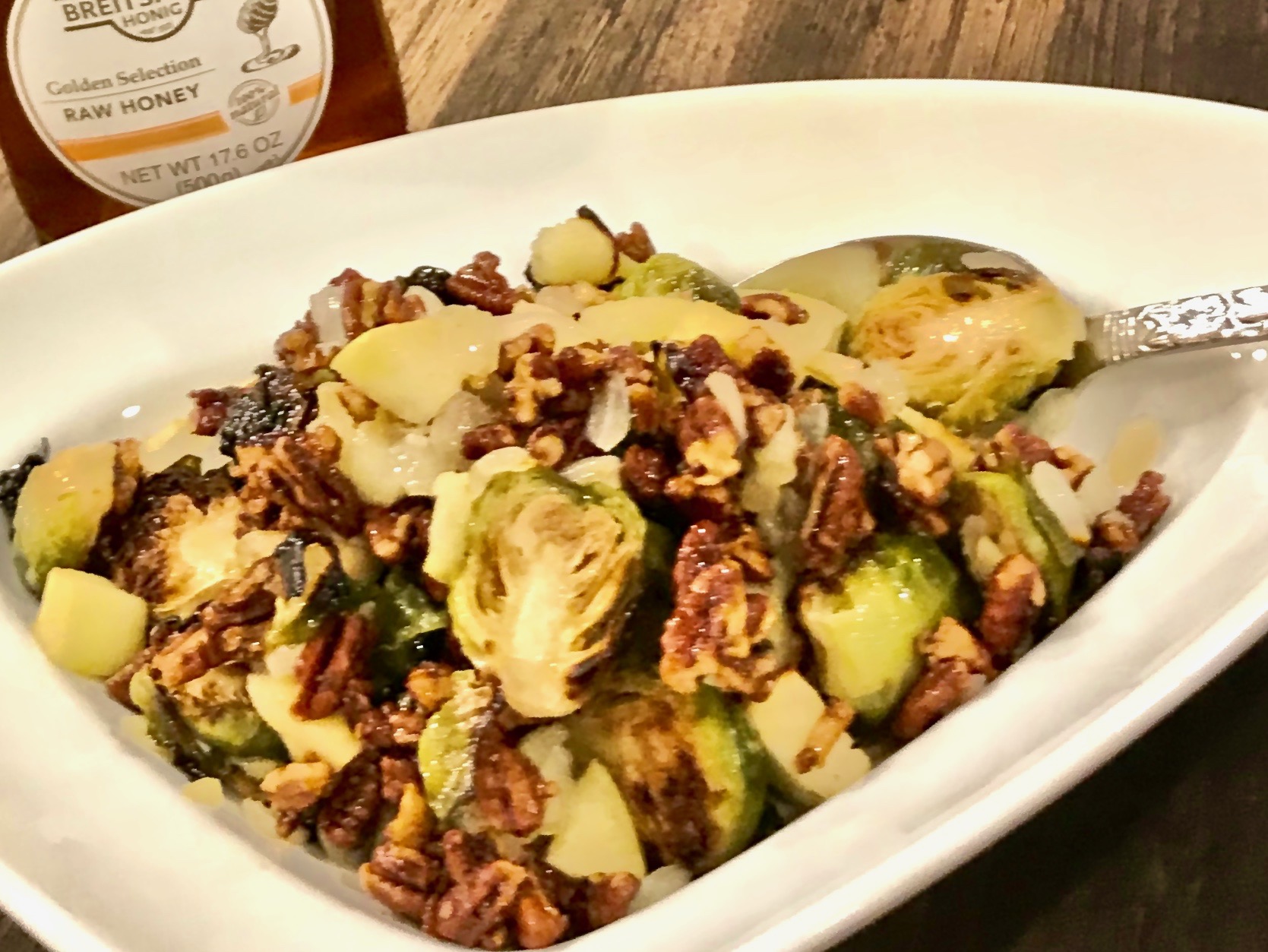 This recipe appealed to me because of its enticing combination of ingredients. It is a perfect recipe for fall.
The Brussels sprouts and onions are roasted, until they are beautifully browned and caramelized. Once the apples are added, the recipe takes on an entirely new, rich depth of flavor. Finally, it is topped with honey roasted pecans. The result is a fantastic, savory dish which exceeded my expectations. 
This is a simple recipe. The only thing you have to be very careful about is roasting the pecans. You really need to set your timer and be vigilant about checking them. They tend to burn easily if you are not careful. The honey roasted pecans add a layer of nutty, salty crunch. They are so delicious, you might find yourself popping one or two in your mouth! Just make sure to leave some for the Brussels sprouts.
When roasting the Brussels sprouts, check them as well, and remove them from the oven when the tops are browned, and the sides are still a beautiful shade of green. This will ensure that they are not overcooked.
This is a recipe that I will definitely be making again. It might even make it to my Thanksgiving menu next year!
This recipe is courtesy of The Meatball Shop cookbook and will serve 4-6 people who will be delighted with this different, delicious, new combination of ingredients!
Ingredients for the Roasted Brussels Sprouts with Apples and Honey-Roasted Pecans
1 pound Brussels sprouts, trimmed and halved
1 large onion, cut into 1-inch pieces
1/4 cup olive oil
2 tsp. salt or to taste
2 baking apples, such as Braeburn or Granny Smith, peeled, cored and cut into 1-inch pieces
1/4 cup apple cider vinegar 
1 cup honey roasted pecans (recipe follows)
Freshly ground black pepper
For the Honey Roasted Pecans:
1 cup pecan halves
2 tbsp. honey
1 tsp. salt
Preheat oven to 325.
Place the pecans on a rimmed baking sheet. Drizzle on the honey, add the salt and toss to coat.
Roast, tossing every 5 minutes, until the pecans are deep brown, well roasted, and emit a strong, nutty aroma, about 20 minutes.
Remove pecans from the oven and allow to cool before using or serving.
For the Brussels Sprouts:
Preheat oven to 500.
Place the Brussels sprouts and onions in a 9 x 13-inch baking dish. (I cheated and used an aluminum pan. Feel free to do the same. Easier clean-up!)
Add the olive oil and salt, and toss to coat.
Roast until the Brussels sprouts begin to brown, about 15 minutes.
Add the apples, mix, and return to the oven. 
Continue roasting, turning every 10 minutes, until the Brussels sprouts and onions are fully cooked and tender and the apples are beginning to soften, about 20 minutes.
Remove the dish from the oven, add the vinegar, and toss to incorporate.
Season with additional salt, if desired, and transfer to a platter.
Top with the pecans and a generous sprinkle of salt and pepper.
Serve immediately.
It's that simple!