It took a long time for me to learn to cook. My mother always wanted to teach me, but I was always either busy or uninterested. Does that sound like a lot of you? Don't you wish your mom or grandmother had written down the recipe for the dish you remember and love so much? Oh, if I had that time back! 
Luckily, I did get some time to learn with my mother. I think she was surprised and happy when I finally showed an interest in cooking. I like to think of this blog as an homage to my mom, she would have enjoyed it very much. I know there was so much more that she could have taught me; I think I could have taught her a few things I have learned as well. Like roasting potatoes and vegetables. Her meals always took a long time to cook, so she would have enjoyed learning a few wonderful quick tricks.
Roasting anything is my favorite fast and easy way to get dinner on the table. It also brings out the full flavor, with a depth of caramelization which will delight your taste buds.
The potatoes in this recipe are coated with fresh oregano, infused with lemon zest and juice, and topped off with Parmesan cheese. Have I got your attention yet? I hope so, because they are just that wonderful. They are roasted to perfection and come out of the oven with a beautiful golden crispy outside and a tender, delicate inside.
This is definitely one of those recipes you will preparing again and again. It is full of fresh flavor and you may even find you will be eating more potatoes than you planned to! Put this on your "short on time" repertoire and thank me later.
This recipe will feed about 4-6 people who will be thrilled with it's caramelized, cheesy goodness! Definitely A "must-try".
Ingredients for Parmesan Roasted Potatoes
5 potatoes, peeled and cut into wedges or large cubes
1/3 cup olive oil
Zest of 1/2 lemon
Juice of 1 lemon
1 tbsp. salt
1/2 tbsp. pepper
1 tbsp. oregano, or 4 sprigs fresh oregano, chopped
1 cup Parmesan cheese
Preheat oven to 450° F.
Put potatoes in a large bowl. 
Add lemon zest, lemon juice, salt and pepper.
Drizzle in oil.
Place 1/3 cup of Parmesan cheese in and toss well  to combine all ingredients.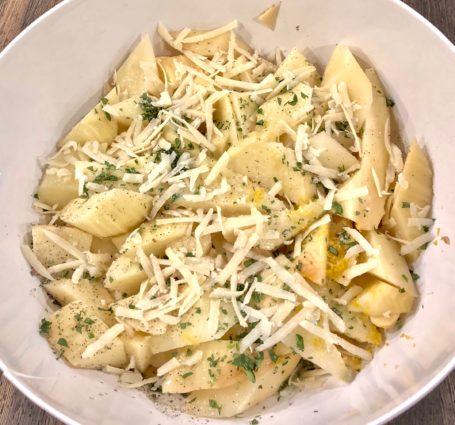 Spread potatoes in a single layer in a 2-inch deep pan or a large aluminum pan.
Roast potatoes in oven until they are golden brown, about 40-45 minutes. (You want to make sure they are well browned on top).
Take out potatoes and sprinkle the remaining amount of Parmesan cheese on top.
Place back in oven for about 15 minutes, or until cheese has melted.
It's that simple!