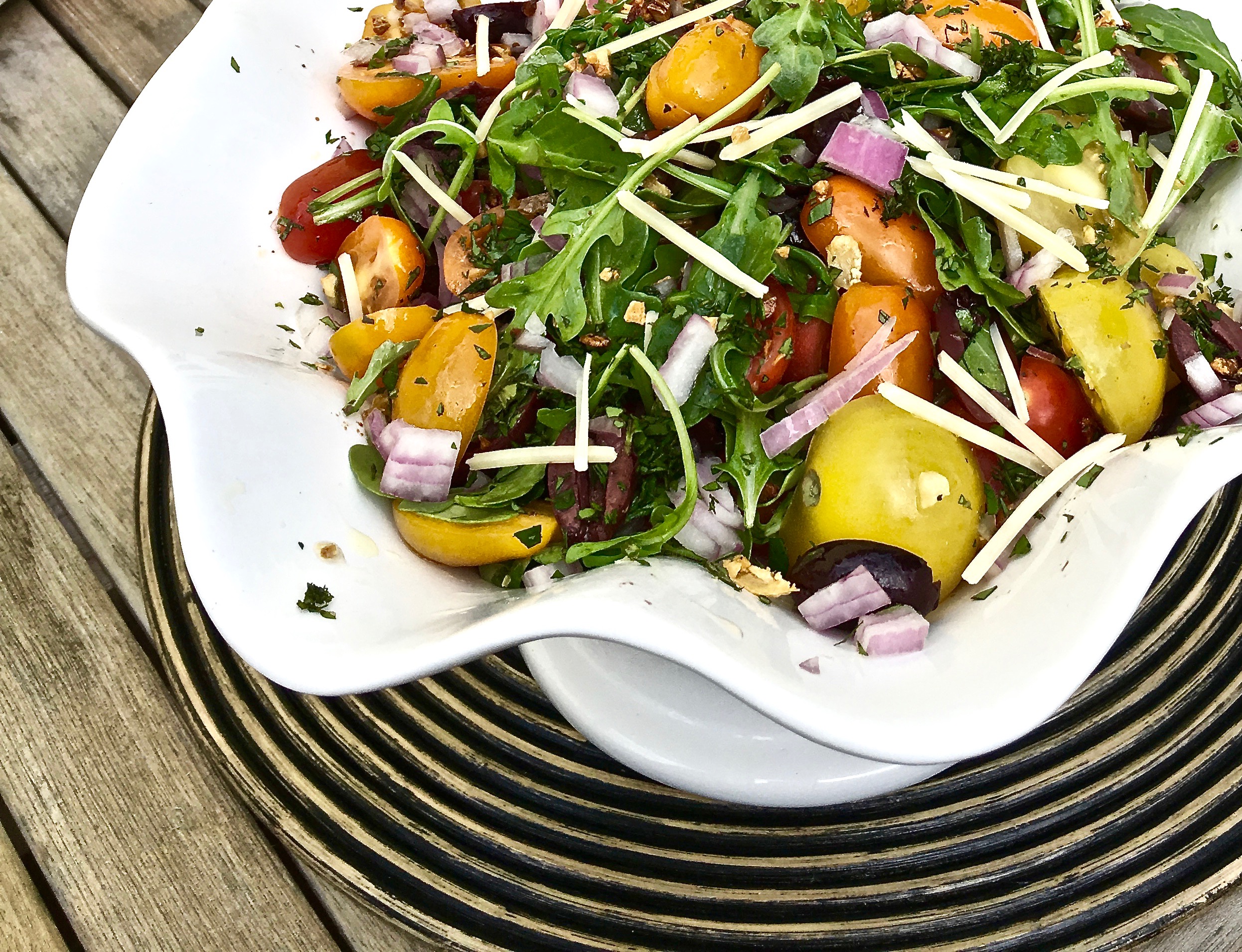 As you all know, my kitchen is under construction. I miss cooking! But, everyday I know I am one day closer to sharing some wonderful recipes with you!
I have been grilling a lot of simple meals. I haven't written anything about these grilled meals, because clearly, they are uninteresting. I have never been adept at managing the timing on the grill, and for the most part, my skills have not improved.
I have been making a lot of salads. They have consisted mostly of tomato, cucumber and onions, as I have an abundance of these vegetables in my garden. 
This salad caught my eye. I had most of the ingredients on hand, so it was convenient. This recipe is about as simple as it gets. The black olives were a tasty addition that enhanced the flavor. I am not usually fond of olives but I really enjoyed them in this recipe. The toasted garlic added a little something extra-special as well. (I had to toast the garlic at my cousin's house and bring it to my house for this recipe!)
This recipe will serve 4 people who will enjoy this new rendition of the plain old tomato salad! 
Ingredients for the Chopped Tomato Salad
1/2 pound ripe beefsteak tomatoes
1/2 pound cherry tomatoes
1 bag of mixed lettuce
1/2 red onion, cut into small slices
2 tbsp. extra-virgin olive oil
2 garlic cloves, thinly sliced
3 sprigs fresh oregano, leaves picked off  stems
1 1/2 tsp. kosher salt
1/4 tsp. fresh black pepper
2 tbsp. balsamic vinegar
1/2 cup black olives, pitted and cut into small pieces
Core beefsteak tomatoes, and cut into small bite size chunks. 
Slice cherry tomatoes in half lengthwise.
Transfer tomatoes to a serving dish, and set aside.
Heat oil in a small skillet over medium heat.
Add garlic, and cook until it is golden brown. Remove from skillet immediately! Remember, garlic will continue to cook after you take it off the heat and may burn.
As soon as you see it turning brown, transfer skillet to an open burner. Add oregano.
Season the tomatoes with the salt and pepper.
Combine with sliced onion.
Mix tomato and onion mixture with the lettuce.
Pour the warm garlic mixture, including the olive oil, over the top. 
Add vinegar and olives; toss well to combine.
It's that simple!