I have just the recipe for all of you cheese lovers out there. And who doesn't love pasta with their cheese? You are all going to love this one!
It's a scrumptious Four Cheese Mac & Cheese. This savory recipe combines the flavors of gruyere, asiago, fontina and sharp cheddar cheese. These four kinds of cheeses blend beautifully to give this dish a distinctive richness and creaminess. 
The flour and milk produce a wonderful golden "bechamel" sauce, also known as a white sauce. It is frequently used as a base for lasagne, scalloped potatoes, gratins and baked ziti among others. In this dish, they add onion powder, nutmeg and a bit of cayenne pepper to the bechamel, which give it a spicy "kick" that is just perfect. 
Since it is baked in the oven, it develops a crisp, delicious top of breadcrumbs that are browned to perfection. The recipe calls for rotelle pasta, but you can use any pasta of your choice. I would suggest a large pasta with ridges which will allow the sauce to permeate into the macaroni and explode with flavor.
This should be in everyone's cooking repertoire. It is perfect as a main dish or as a side for any kind of meal. It is even better as a leftover. Make a batch and freeze it for a quick weeknight dinner. Take it for lunch. Whatever you do, make sure you do not miss this one. It is a "keeper" for sure! 
This recipe is courtesy of The_Swedish_Chef. It will serve about 8 people who will be dreaming about it forever!
Ingredients for Four-Cheese Macaroni and Cheese
1 lb. rotelle pasta (or any pasta of your choice)
3/4 lb. sharp cheddar cheese, shredded
1/2 lb. gruyere cheese, shredded
1/2 cup asiago cheese, shredded
1/2 cup Fontina cheese, shredded
3 tbsp. unsalted butter
3 tbsp. all-purpose flour
2 cups milk
1 tsp. onion powder
1/2 tsp. salt
1/4 tsp. dried mustard
1/4 tsp. ground nutmeg
1/4 tsp. ground cayenne pepper
1 cup panko breadcrumbs (Japanese Bread Crumbs)
Note: This is a baked macaroni and cheese; therefore, it will not have a lot of extra cheesy sauce as it is absorbed into the pasta while baking. If you require extra saucy mac & cheese, just reduce the amount of pasta you place in the dish or make more sauce so it is creamier.
Heat oven to 350.
Coat a 3-quart rectangular baking dish with non-stick spray. 
Bring a large pot of salted water to boiling.
Toss all the shredded cheeses together in a large bowl. Set aside.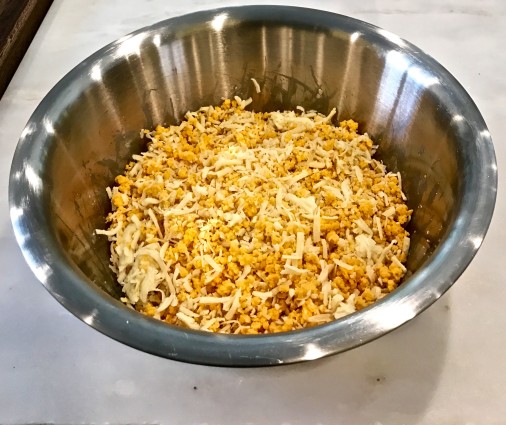 Melt butter in a medium-sized saucepan over medium heat.
Whisk in the flour until smooth and slightly bubbly.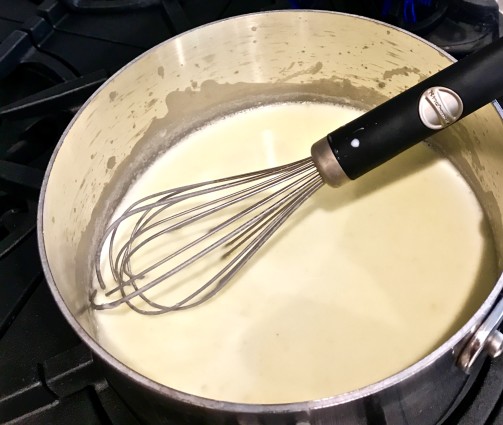 In a thin stream, whisk in the milk. 
Stir in the onion powder, salt, nutmeg, dried mustard, and cayenne.
Bring to a boil over medium-high heat. Reduce heat and simmer 3 minutes. 
Remove from heat; whisk in 2 1/2 cups of the cheese mixture and stir until smooth. Cover to retain the heat.
Once water boils, add pasta. Cook until your consistency, then drain. 
In the pasta container, stir together the cooked pasta and cheese sauce.
Pour half of the mixture into the prepared dish.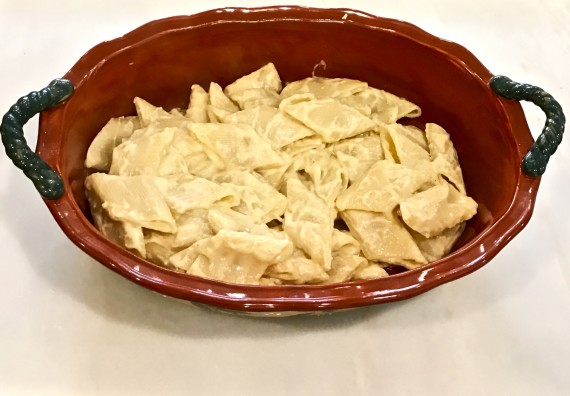 Sprinkle with a generous cup of the reserved cheese.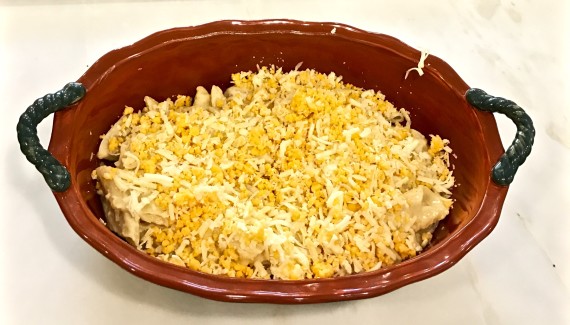 Spoon remaining cheese-covered pasta into the dish and top with the remaining cheese.
Add 1 cup of Japanese Panko Bread crumbs to the top of the mixture.
Bake at 350 degrees for 30 minutes or until the Panko crumbs are lightly browned and the cheese is bubbly.
Cool slightly before serving.
It's that simple! (And oh so Yummy)!