There are so many wonderful cooking tips out there that will help you become a better cook. Throughout the years, I have always looked for those words of wisdom that will help make the process a little easier. As a result, I have collected quite an array of culinary tidbits. I would like to share several with you and hope you find them useful.
1. When making a salad, you know you should always wash your vegetables. What is equally important, in my opinion, is to dry them. Yup. Dry them really well. No one likes a wet salad. 
2. Always dress a salad right before you serve it. Dressing it too early will make it soggy and unappetizing.
3. Many of you store your spices in a shelf near the stove. Don't! Spices need to be stored in a cool, dark space. Light and heat will cause them to lose their flavor.
4. After boiling vegetables, always plunge them in an ice bath to stop the cooking process. This will ensure you get crisp, beautiful vegetables every time.
5. Never put oil in pasta water. The oil will prevent the pasta sauce from sticking. Also, pasta with ridges or curves is the best to use with sauces because the sauce will stay in the curves. 
6. Remove your meat from the refrigerator one hour before cooking. It needs to come to room temperature in order to cook evenly.
7. And one from Ina Garten: For best results when baking, leave butter and eggs at room temperature overnight (yes, she said overnight) . I have always said, refrigeration is over-rated. You don't need to refrigerate as much as the cookbooks suggest. The authors say it for their own safety reasons, just as they tell you to cook meat to a certain temperature.
8. Always cook your meat 10-15 degrees less than what your cookbook indicates. The meat will continue cooking after you take it out of the oven. If you don't, you will have unpalatable, overcooked meat.
I will include many more cooking tips in future posts. I hope they help!
Today's recipe provides an outstanding way to cook rice. It is so light and refreshing. The lemon zest, along with the orange zest, give the rice a bright, fresh citrus flavor that will titillate your taste buds, making them dance with happiness!
This is a must-try. It offers a wonderful start to summer with its natural citrus flavors. It is perfect as an accompaniment to any main dish or just as a snack. I did not use as many onions as the recipe called for, but it came out beautifully.
This recipe is courtesy of Giada DeLaurentis and will serve 4-6 people who will love it so much it may become a family favorite!
Ingredients for Citrus Rice
Rice Salad:
1/2 cup sliced almonds
4 cups low sodium chicken stock
1/2 tsp. kosher salt
2 tbsp. extra-virgin olive oil
2 cups basmati rice, rinsed
3/4 cup chopped fresh felt leaf parsley
1 medium orange, zested
1 lemon, zested
1 cup thinly sliced green onions
Vinaigrette:
1/2 cup extra virgin olive oil
1/4 cup freshly squeezed orange juice (about 1/2 orange)
3 tbsp. freshly squeezed lemon juice (about 1 lemon)
2 tbsp. soy sauce
1 tbsp. honey
1 1/2 tsp. ground cumin
Kosher salt 
Freshly ground black pepper
Heat oven to 350.
Place oven rack in the center of the oven.
Arrange the almonds in a single layer on a baking sheet. Bake for 5-6 minutes until golden brown.
Cool completely, about 15 minutes.
In a medium saucepan, bring the chicken stock, salt and oil to a boil over medium-high heat.
Stir in the rice. Cover the sauce pan, reduce the  heat, and simmer until all the liquid has been absorbed and the rice is tender, about 40 minutes.
Remove the pan from the heat and let sit for 5 minutes.
Using a fork, fluff the rice and place in a large serving bowl.
Add the parsley, orange zest, half the lemon zest, green onions, and 1/3 cup of the almonds. 
Toss well.
In a blender, combine the olive oil, orange juice, lemon juice. soy sauce, honey and cumin.
Blend until smooth. Season with salt and pepper to taste.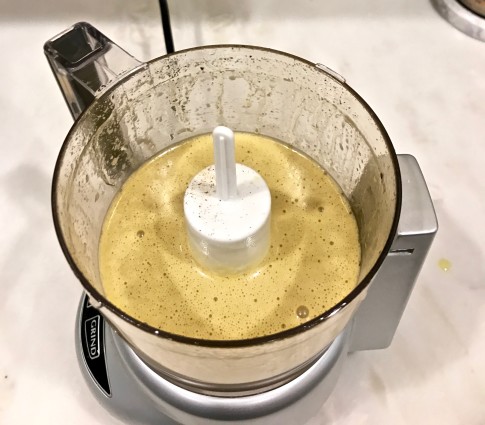 Pour the vinaigrette over the rice mixture and stir well.
Garnish with the remaining lemon zest and almonds.
It's that simple!