Farro is an ancient whole grain, similar to barley and quinoa that has been eaten for many generations. Commonly found in Mediterranean, Ethiopian and Middle Eastern cuisines, farro has recently gained popularity as a great source of nutrition because it is fat-free, cholesterol-free, but not gluten-free. It is also a great source of iron and high in fiber and protein. Similar to barley, farro has a mild taste and chewy texture and is just plain delicious. Have I convinced you to try it yet?
Like other whole grains, farro is easy to cook. You may want to soak it overnight to shorten the cooking time, but you really don't need to. It takes about 10 to 15 minutes if you soak it, and 25 to 30 minutes if you don't.
I loved this particular recipe because of the different textures that were combined. The lemon zest added a tangy flavor and the crushed red pepper further enhanced the flavor with just the perfect amount of heat. You could also add some grated cheese or toasted pine nuts. Any way you make this recipe it will be wonderful! I am now a farro-lover and I think you will be too.
This recipe is courtesy of Michael's Genuine Food. It will serve 4 people who may indeed, become farro lovers too!
Ingredients for Sautéed Broccoli Rabe with Farro, Crushed Red Pepper, and Lemon
1/2 cup farro
2 pounds broccoli rabe, ends trimmed, cut into 1 inch pieces
2 tbsp. extra-virgin olive oil
2 garlic cloves. minced
1/4 tsp. crushed red pepper
Kosher salt and freshly ground black pepper
Zest of 1 lemon 
Bring a medium pot of salted water to a boil.
Add the farro, reduce the heat to medium-low, and cover.
Simmer until the farro is tender and the grains have split open, about 30 minutes.
Keeping the cooking water in the pot, remove the farro from the pot with a spider strainer or mesh sieve, put it in a colander, and rinse with cool water.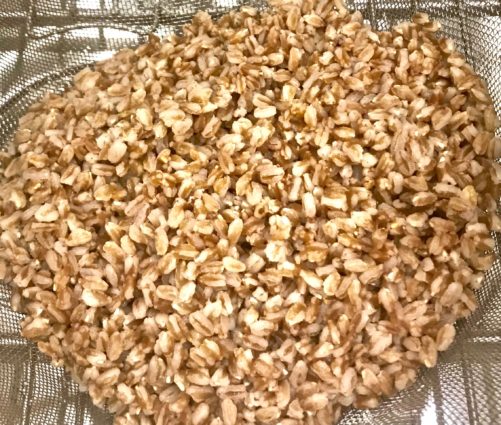 Set aside.
Bring the cooking liquid back up to a boil and season again with salt.
The farro will have soaked up much of the original seasoning.
Boil the broccoli rabe until just tender, about 3 minutes.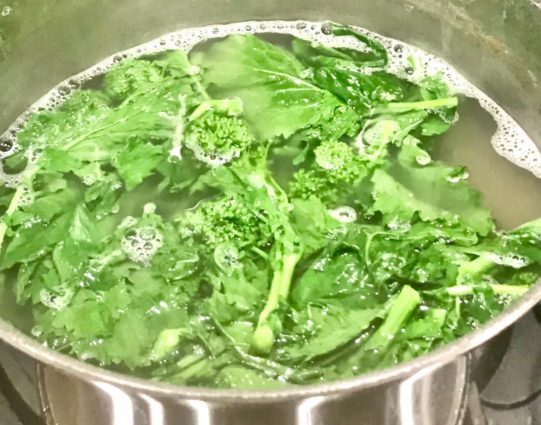 Drain in a colander.
Set a large skillet over medium heat and coat with the oil.
When the oil is hot, add the garlic and cook, stirring, for a minute to soften.
Add the broccoli rabe and red pepper; season with 1 teaspoon salt and 1/2 teaspoon black pepper.
Toss the rabe to coat with the oil and cook until tender, roughly 5 minutes.
Add the drained farro, tossing to combine, and sauté for another minute until heated through.
To serve, place the broccoli rabe and farro on a nice platter.
Finely grate lemon zest over the top, preferably with a Microplane.
It's that simple!