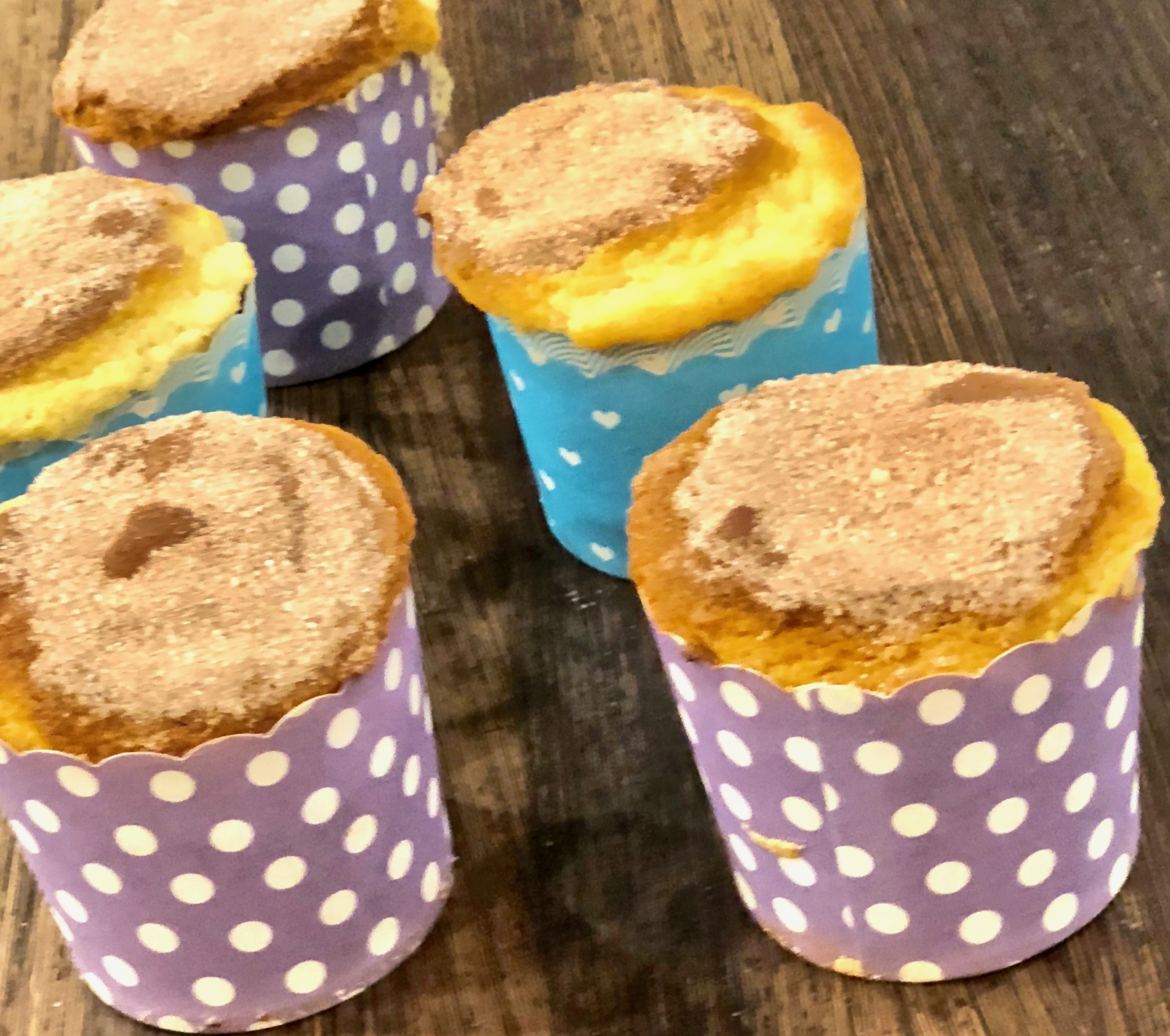 Wondering what kuchen is? So was I. Kuchen is a German word for cake. Most kuchen have eggs and flour as the main ingredient, but some may also contain a sweetener or a fat. In other languages, it is used as a term for savory or sweet desserts, or pastries. It is common in Germany to have friends over to enjoy some coffee and kuchen.
Katherine Kallinis and Sophie Kallinis LaMontagne, authors of  The Cupcake Diaries explains that "this isn't a traditional kuchen recipe because they did not use yeast." They also noted that kuchen "commonly does not have a frosting, instead it has a cinnamon-sugar topping." 
Whatever the origin of this cupcake, it is just plain delicious. The inside of the cupcake is beautiful fluffy goodness, topped with a divinely caramelized sugar topping. Each bite is more wonderful than the last.
I chose to make this recipe because (as usual), I had all the ingredients in my pantry and it was a crummy day outside. Just a few notes; the batter took much longer than the 16 to 18 minutes they suggested. It took closer to 20 to 25 minutes. I made it twice, each time in two completely different ovens and the same thing occurred. So, don't worry if it takes a little longer to bake. Also, you want the top of the cupcake to be a light, golden brown, so you know the caramelization took place.
Who doesn't want to have a delicious cupcake in the morning with coffee, or as a snack or dessert? These muffins won't disappoint. They are just that good.
This recipe is courtesy of The Cupcake Diaries and will make 12 buttery, luxurious cupcakes.
Ingredients for Butter Kuchen Cupcakes
2 1/2 cups all-purpose flour
2 1/2 tsp. baking powder
1/4 tsp. salt
2 tsp. ground cinnamon
8 tbsp. unsalted butter, at room temperature
1 3/4 cups sugar
2 large eggs, at room temperature
2 1/4 tsp. pure vanilla extract
1 1/4 cups whole milk, at room temperature
For the Cinnamon-Sugar Topping:
1/2 cup of ground cinnamon
1/3 cup sugar
Preheat the oven to 350° F.
Line a standard cupcake pan with 12 paper baking cups, or grease the pan with butter if not using baking cups.
Sift together the flour, baking powder, salt, and cinnamon on a sheet of parchment paper or wax paper and set aside. (I sifted mine into a bowl)
In the bowl of a stand mixer or in a bowl with a handheld electric mixer, cream together the butter and sugar for 3-5 minutes, or until light and fluffy.
Add the eggs one at a time, mixing slowly after each addition.
Add the vanilla to the milk in a large liquid measuring cup.
Add 1/3 of the dry ingredients followed by 1/3 of the milk, and mix thoroughly.
Repeat.
Stop to scrape down the bowl as needed.
Add the last third of the dry ingredients followed by the last third of milk.
Mix thoroughly.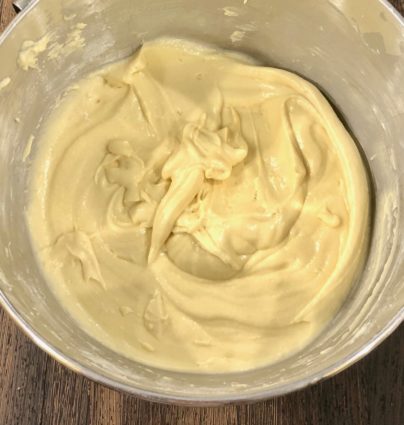 Scoop the batter into the cupcake pan using a standard-size ice-cream scoop until each cup is two-thirds full.
For the Topping:
Mix together the cinnamon and sugar and spoon it evenly on top of the batter in each cupcake well.
Bake for 16-18 minutes (start checking at 15 minutes), or until a toothpick comes out clean.
The cinnamon and sugar should have caramelized and be slightly crunchy to the touch.
Transfer to a wire rack to cool completely.
It's that simple!