Through my research, I found that cornbread is made very differently in the North and South. Northerners tend to make their cornbread very sweet, with a high flour content. Southerners prepare their cornbread with cornmeal, very little sugar, and is made in a skillet and finished in the oven.
Interesting! Who knew?
So now, I know I made a "southern" cornbread. When my husband tasted it, he told me he loved it because it "wasn't too sweet". Who would have thought those words would have such a significant meaning? When it comes to sweet "northern" cornbread, I prefer it as a muffin. Southern cornbread is great to eat with your meal as southerners do, to soak up any gravy or sauce from your plate. It is also wonderful as a snack, or to take for breakfast. I would also definitely have some after dinner as a dessert, though I would not technically call it a "dessert". Oh whatever, I would eat this bread anytime! It was so easy to make.
I do know that both kinds are equally delicious. It is pretty much a matter of personal taste. Which kind of cornbread do you enjoy? Please send me an email or write me on my Facebook page. I would love to know.
This recipe is courtesy of Alex Guarnaschelli and will serve 8 to 10 people who will enjoy it so much they won't care if it is northern or southern!
Ingredients for Corn Bread
1 1/4 cups coarsely ground cornmeal
3/4 cup all-purpose flour
1/4 cup granulated sugar
1 tsp. kosher salt
2 tsp. baking powder
1/2 tsp. baking soda
1/3 cup of milk
1 cup buttermilk
2 eggs, lightly beaten
8 tbsp. unsalted butter, melted
Preheat the oven to 425°F.
Place a 9-inch cast iron skillet inside to heat while you make the batter.
In a large bowl, whisk together the cornmeal, flour, sugar, salt, baking powder, and baking soda.
Whisk in the milk, buttermilk, and eggs.
Whisk in almost all of the melted butter, reserving about 1 tablespoon for the skillet later on.
Carefully remove the hot skillet from the oven.
Reduce oven temperature to 375°F.
Coat the bottom and sides of the hot skillet with the remaining butter.
Pour the batter into the skillet and place it in the center of the oven.
Bake until the center is firm and a cake tester or toothpick inserted into the center comes out clean, 20 to 25 minutes.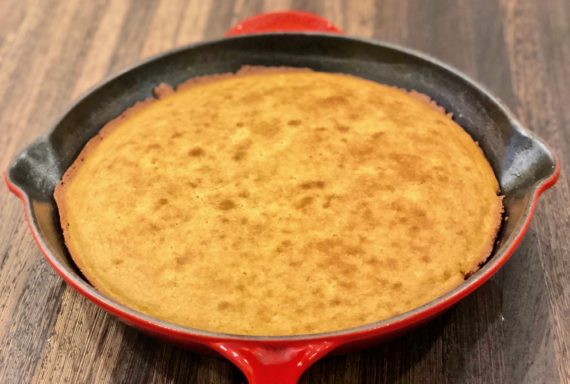 Allow to cool for 10 to 15 minutes and serve.
It's that simple!